Months ago, someone on our team had the idea of doing a temporary pop-up shop to drive awareness about the Internet of Things and connected devices. The idea sounded cool and we thought it would be fun to do. We had no idea of the scale we'd take it to, the collaborators we'd have the opportunity to work with or the incredible level of interest and engagement from media, visitors and customers. Here's a review of what went down at our fun and crazy IoT themed pop-up shop
Why a Pop-Up Shop?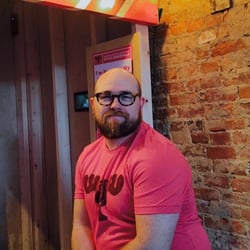 Why would an early-stage software company with a platform still in development open up a pop-up shop for only three days in the heart of Cincinnati's historic Over-the-Rhine? Our Co-Founder and CEO wrote about the why a couple weeks ago. It has mostly to do with education and awareness.
In a recent study commissioned by Microsoft, over half of executives said they were unfamiliar with the Internet of Things. We're trying to move the needle on that stat for executives - as well as anyone interested in or working in technology.
We're All Griswolds on Some Level
The result of our efforts was a light-hearted attempt to show people how connected devices and the Internet of Things technology can add value to their lives - at home as well as in their jobs. The vehicle we chose was to show how the "Internet of Things Saves Christmas" by building interactive projects to solve many of the all-too-familiar problems experienced by the Griswolds during their Christmas Vacation.
Not only are the Griswolds' problems hilarious and entertaining - they're incredibly relatable. We've all had or heard about experiences with over or under cooked turkeys, uncooperative exterior illumination and the unannounced (and often unwelcome) distant family visitor. And in full disclosure, the projects we built were some of the most fun we've worked on to date.
Our Griswold Inspired Projects
All of our in-store projects were built using currently available hardware and technology like sensors and modules including Arduino, Edison and Raspberry Pi. Many of them were also powered by workflows and reactions built on Losant's software platform.
Internet Powered Arduino NeoPixel Christmas Tree
The crown jewel in our pop-up store experience - and hands down our favorite to build - was our Internet powered NeoPixel LED Christmas Tree. No less than 1,200 individually addressable LED lights and an Arduino Zero make for one spectacular tree. The best part is that you control the color and animation through the cloud. Even better news is that it's still up and running - now located at our office.
Jump over to led-tree.christmasiot.com to choose the color or animation for the LED lights and watch the result via live stream. We've also posted detailed instructions on how to build your own here.
littleBits + WeMo Powered Holiday Lights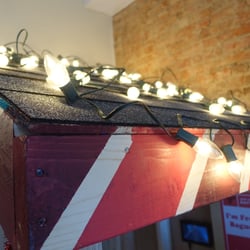 One of the most memorable scenes from the film was Clark's excruciating battle with the lights on the house. We built a simple button-powered system using a littleBits kit and a WeMo Insight smart outlet to turn the lights on and off through the cloud.
You'll never again have to be guessing and running back and forth between the outlet and the front of the house. You could even build a simple process that tells you when the lights are on or off. Even Ellen's mom would be impressed!
Edison Powered Sensor & WeMo Controlled Heater
Clark "freezes his baguettes off" when he gets trapped up in the attic, forced to don womens formal winter wear to keep warm. To avoid the bitter cold and embarrassment in the future, we built a motion sensing heater that runs over the cloud using an Intel Edison, WeMo Insight smart outlet running through the Losant platform.
This system would be perfect for a garage or basement as well - though you'll definitely want to be careful with anything having to do with a heat source automatically turning on.
Smart Sled With GPS and Temp Sensors
Who could forget the infamous sled ride when Clark lubes up his stainless steel model with his company's non-caloric, silicone based kitchen lubricant. We wondered what would happen if you sensored up the sled with GPS and temp. Though we weren't able to build a real model given Cincy's balmy December temps, this was one of the more enjoyable illustrative mock ups we built: a GPS/temperature sensing smart sled, complete with a visualization of the data you'd get from a speeding ride across woods and pavement like Clark's.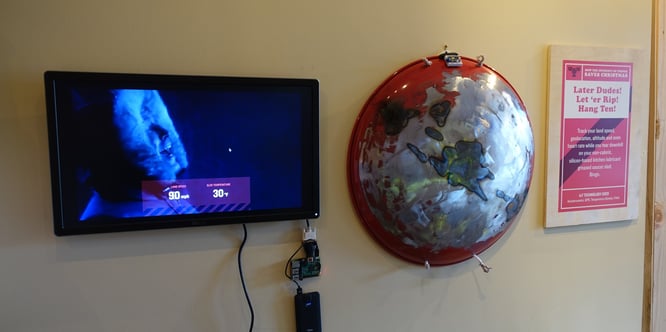 Santa Tracker
The Griswold family - especially Cousin Eddie - is amazed when Clark informs them about an airline pilot spotting Santa on his sleigh Christmas Eve night. Our pop-up shop customers enjoyed multiple drop ins from Santa throughout the weekend. And Santa's whereabouts when he wasn't in the shop were visible the entire time thanks to a Losant powered Santa tracker app.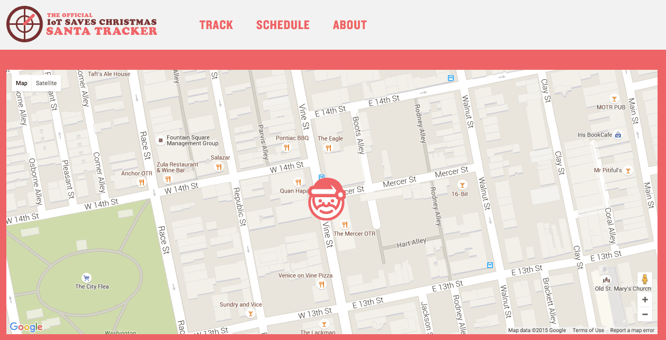 Visitors From All Ages and Background
We were thrilled to see a diverse crowd stopping in the store -from curious OTR passers-by to tech and engineering professionals to a host of friends from the local startup community.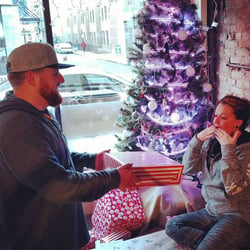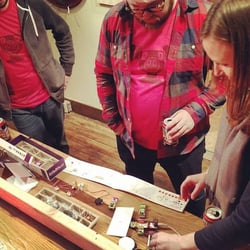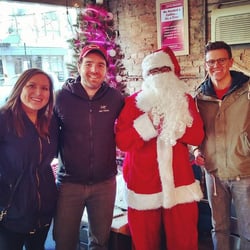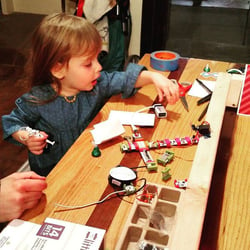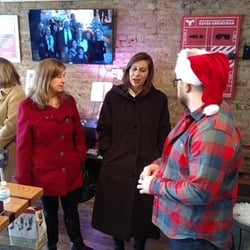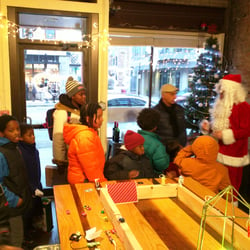 Our Awesome Partners
Special thanks to all of the many partners who worked along with us to make such a fun event happen. We definitely could not have pulled it off without these talented folks.
---
More Pop-Ups in 2016?
All in all, our Holiday IoT Pop-up Store was a Herculean effort by our team and partners. It allowed us to educate and entertain people, and ultimately get folks talking and thinking about the Internet of Things. Will there be encore of our pop-up store in 2016? It's certainly a possibility. Subscribe our newsletter to stay informed about that and other future events throughout the year.