Signing up for a Losant Builder Kit simply involves a tweet – but just tweeting at us would be too easy. Even though you may not have any hardware yet, we wanted you to be able to experience at least some of the features Losant provides. That's why we're going to use Losant to tweet for you.
Before you get too far, we can only ship our free builder kits inside the United States. If you live outside the US, feel free to follow along anyway since this is a pretty good primer for getting started with Losant.
Step 1: Sign up for Losant
Signing up for Losant is fast, simple, and free. If you already have an existing account, you don't need to create a new one.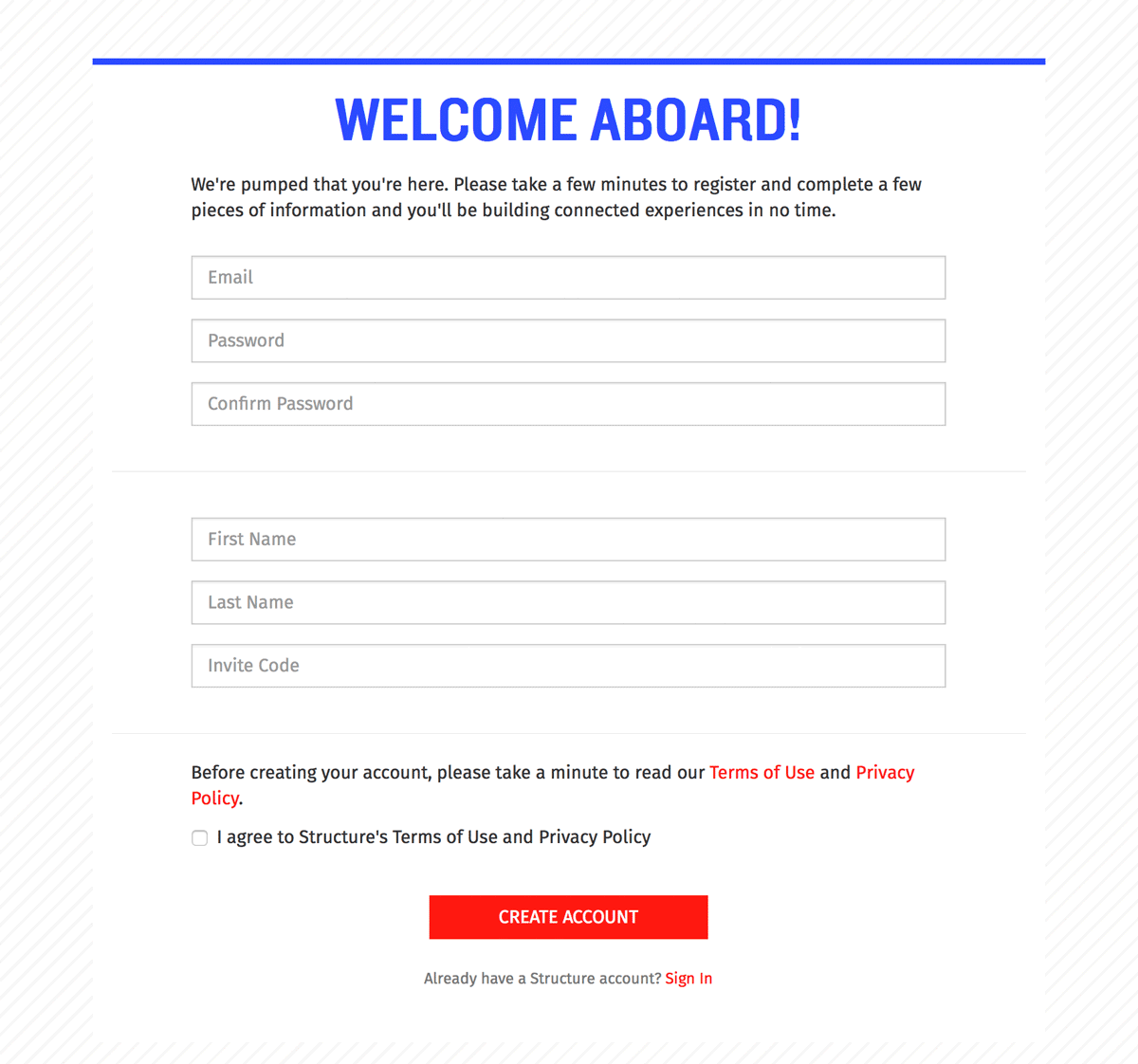 Step 2: Link your Twitter Account
After signing up, go to your Account Settings page by clicking your name at the top right.


Once inside the account settings, select the Account Links tab.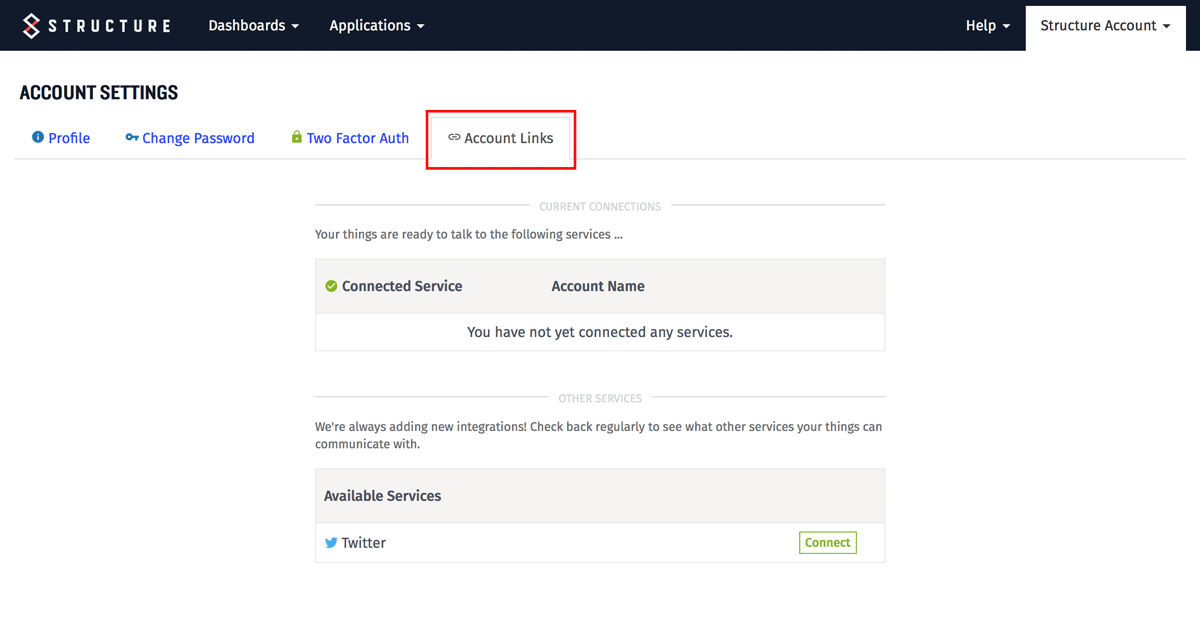 Now, simply click the "Connect" button next to Twitter. You'll be redirected to Twitter to confirm the link and then redirected back to Losant when it's complete.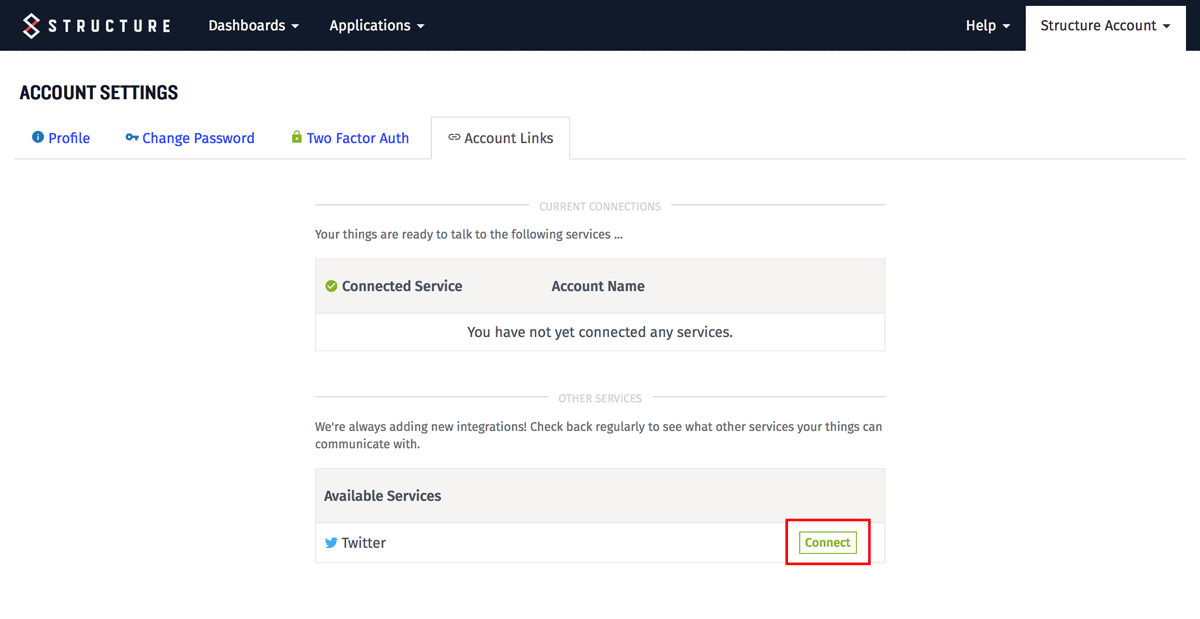 Step 3: Create Twitter App
In order to tweet using third-party services, like Losant, you'll have to create a Twitter app. Fortunately, Twitter makes this pretty easy.
First, navigate to https://apps.twitter.com
If you don't already have an app, you'll be prompted to create a new one.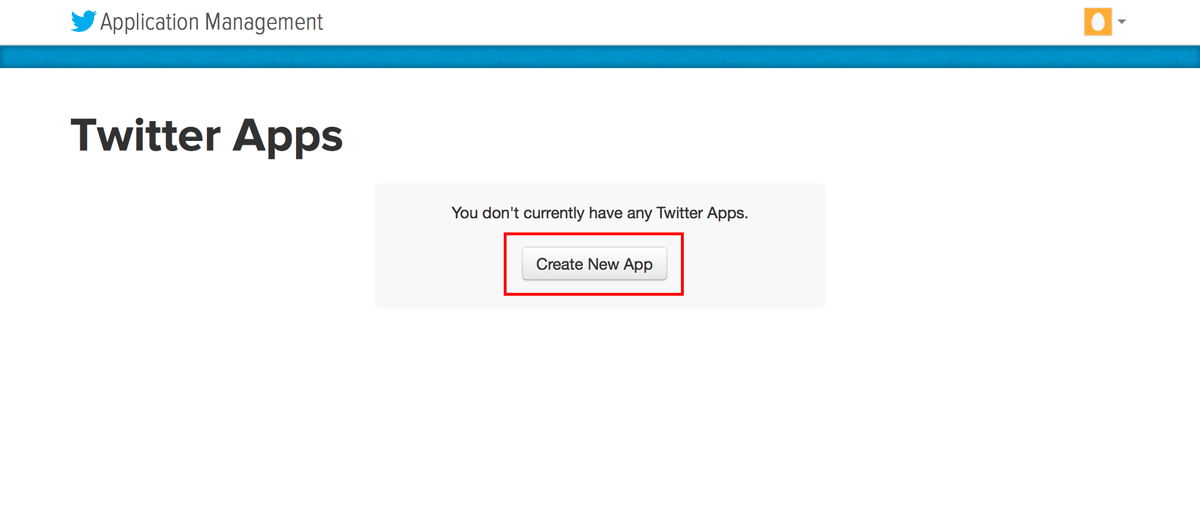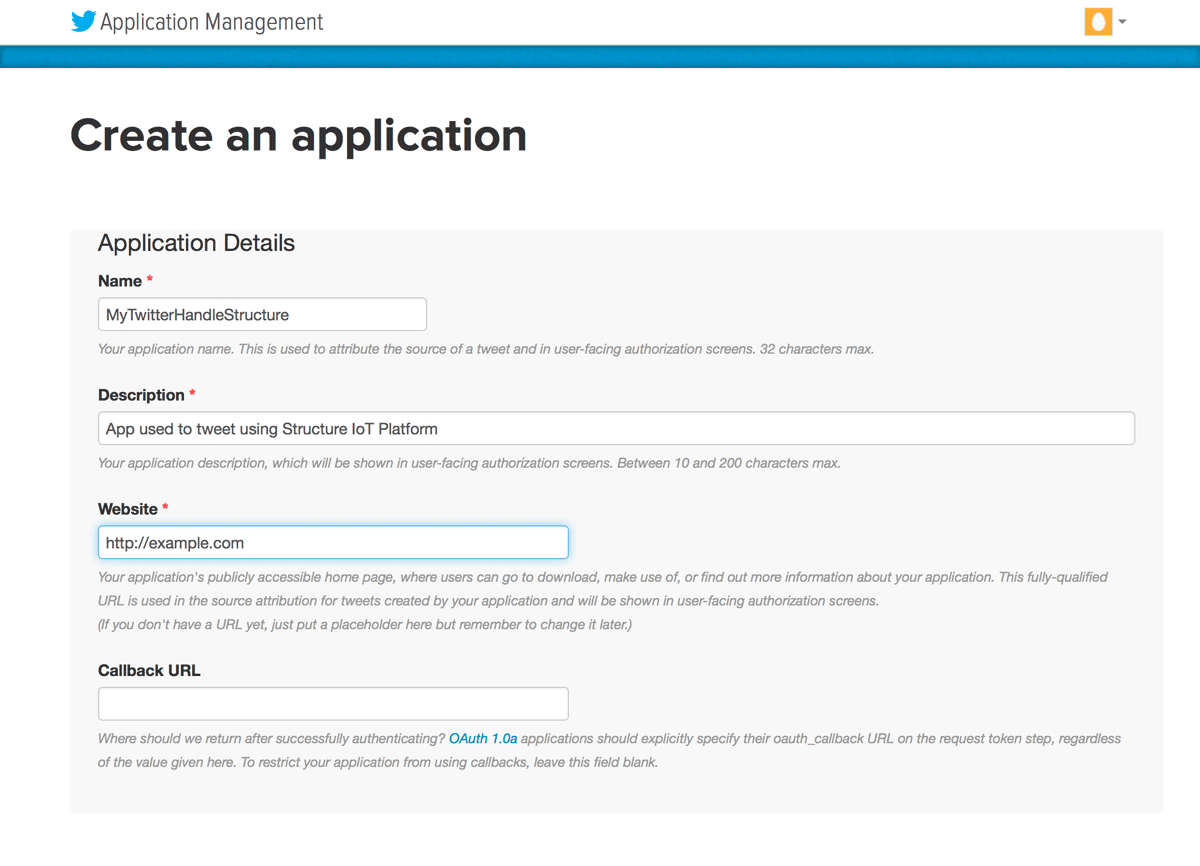 The name has to be globally unique among all Twitter users. We recommend using your twitter handle + "Losant" to ensure it doesn't conflict.
The description can be anything you want. The website can just be a placeholder, like http://example.com. The callback URL is not required.
The last thing to do is accept the Developer Agreement and click the create button at the bottom.
You may receive an error that indicates a mobile number is required in order to create Twitter apps.

If you receive this prompt, navigate to https://twitter.com/devices to add your mobile phone. Once the phone is added, you should now be able to create the application.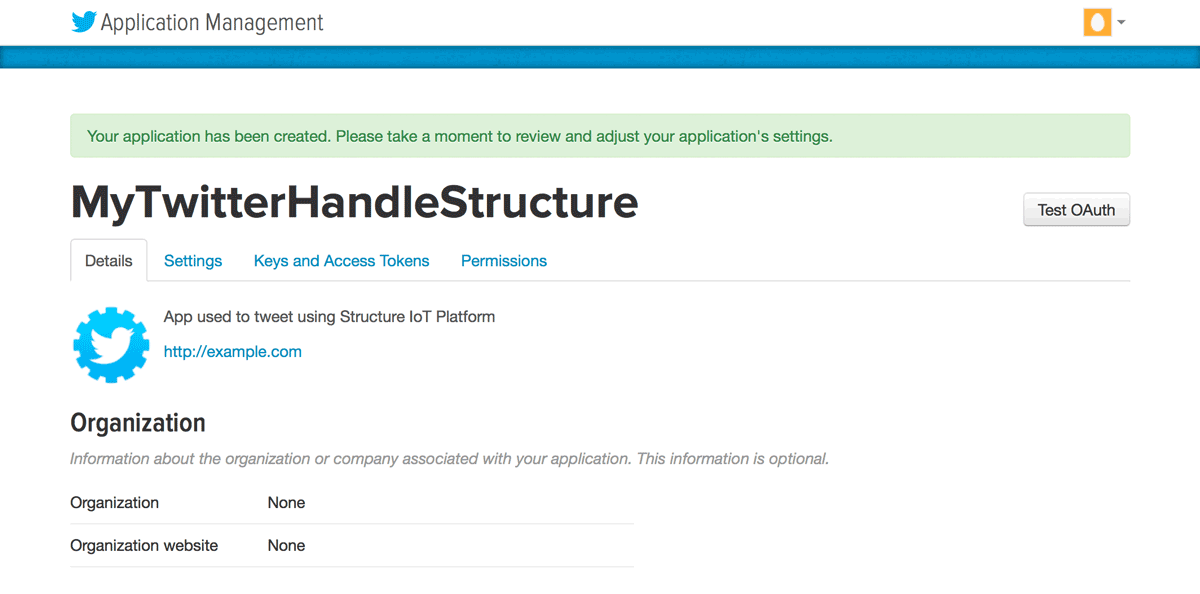 The last step is to create access keys and tokens that you'll supply to Losant. Click the "Keys and Access Tokens" tab.

Once on this tab, scroll to the bottom and create an access token.

You now have all the required information for Losant to tweet using your account. Losant needs the Consumer Key, Consumer Secret, Access Token Key, and Access Token Secret. Keep the Twitter app page open, or copy/paste these values somewhere convenient.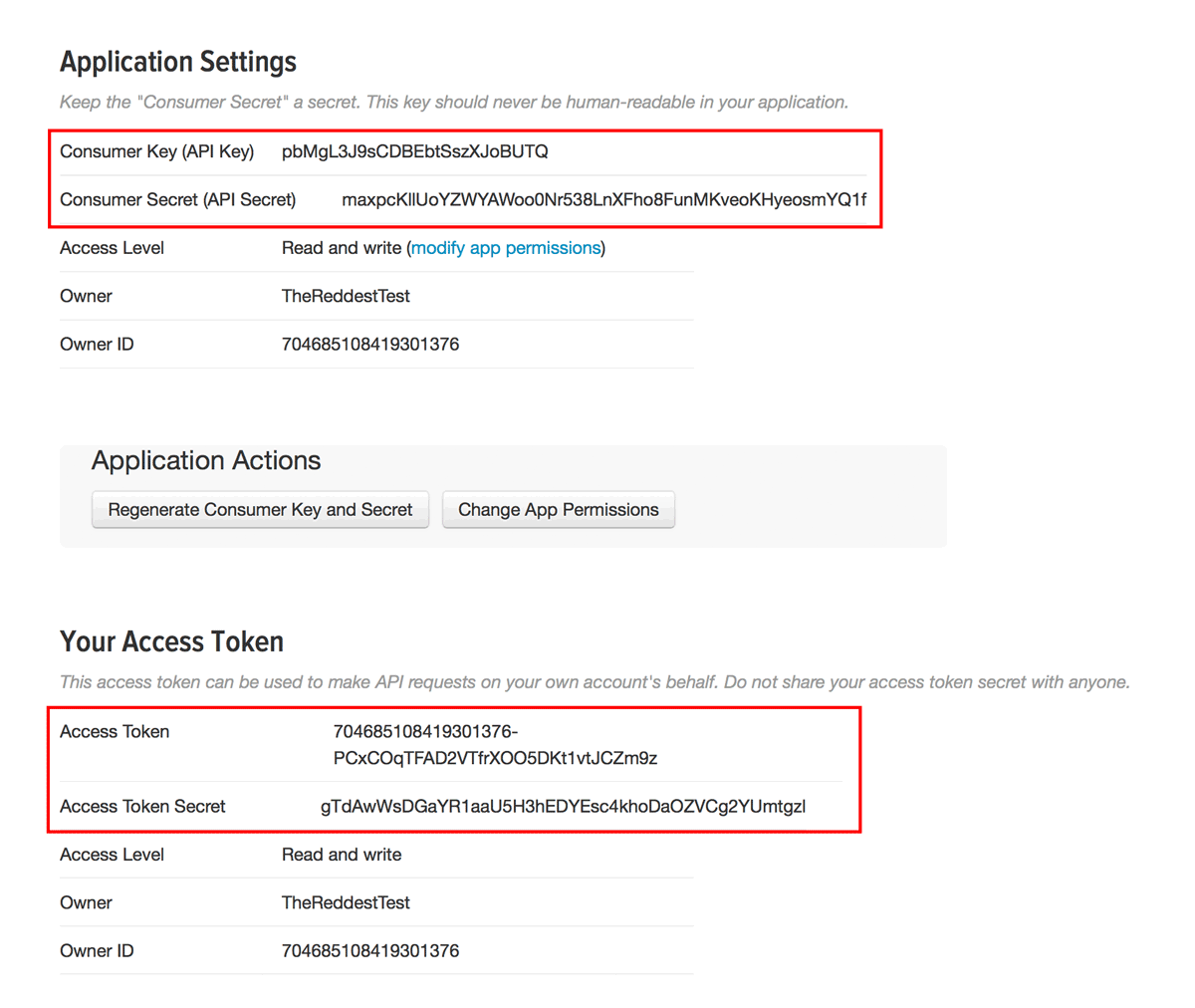 Step 3: Create Losant Application
Applications are what contain all devices and workflows. We're going to use a workflow in the next section to do the tweeting, but first we need an application. Click the main Applications menu at the top and select "Create Application."

You can name the application anything you want and provide an optional description. When done, click the "Save Application" button.

Step 4: Tweet!
We're going to use a Losant workflow to tweet for you. Workflows are a powerful tool to connect devices together, trigger notifications, and much more.
Create a new workflow by selecting "Create Workflow" under the Workflows menu.

Give it any name and description you'd like. When done, click the "Save Workflow" button.

The workflow we're going to create is very simple. It will only contain two nodes. The first node is a virtual button that we can use to trigger the workflow. The second node is the tweet node itself.
Start by dragging a Virtual Button node onto the workflow canvas.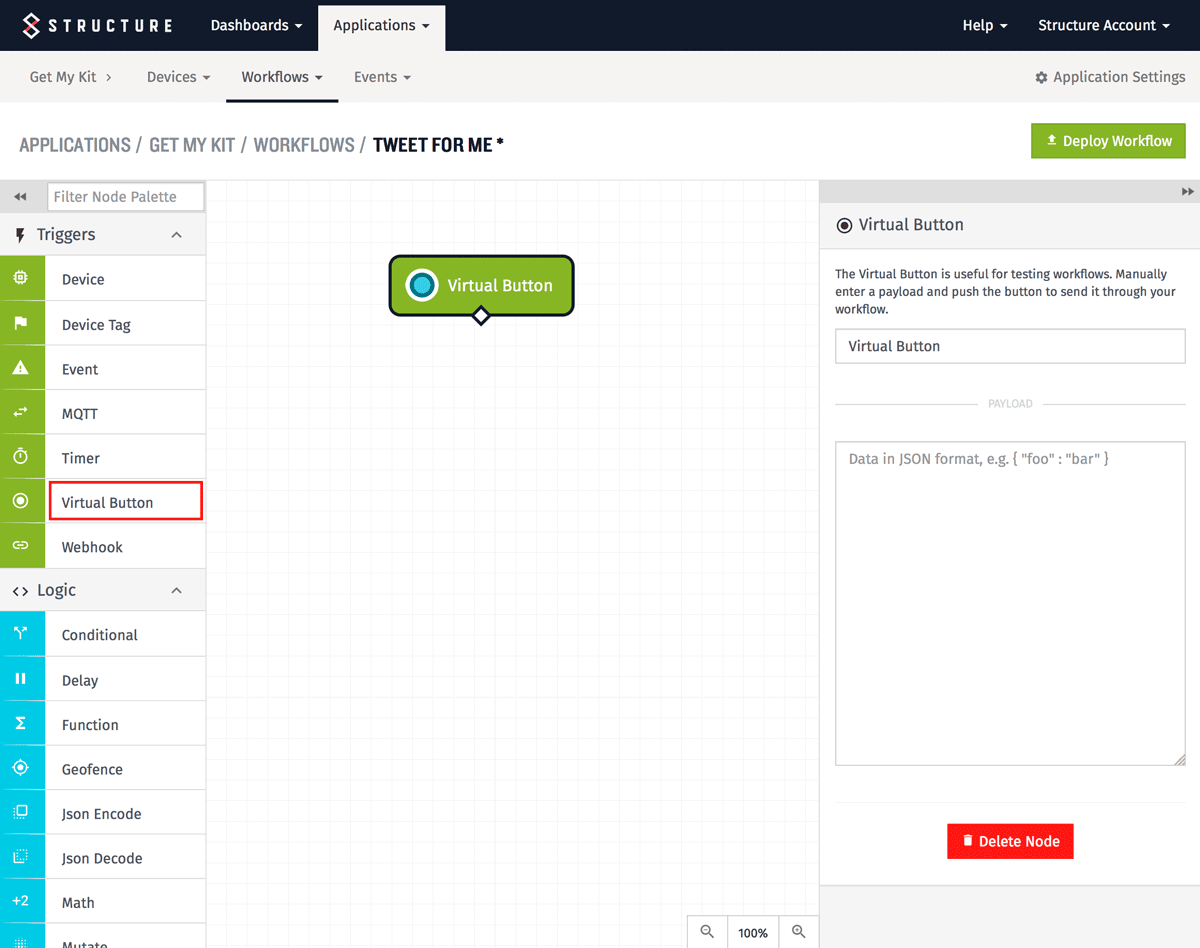 Every workflow starts with a trigger. The trigger could be a device, timer, webhook, or one of a variety of other options. For this project, however, we're going to trigger the workflow with a virtual button. Every time you click that blue button on the node, this workflow will run.
Let's give this workflow something to do when you click the button. Drag the Tweet output node onto the workflow canvas and connect it to the Virtual Button node.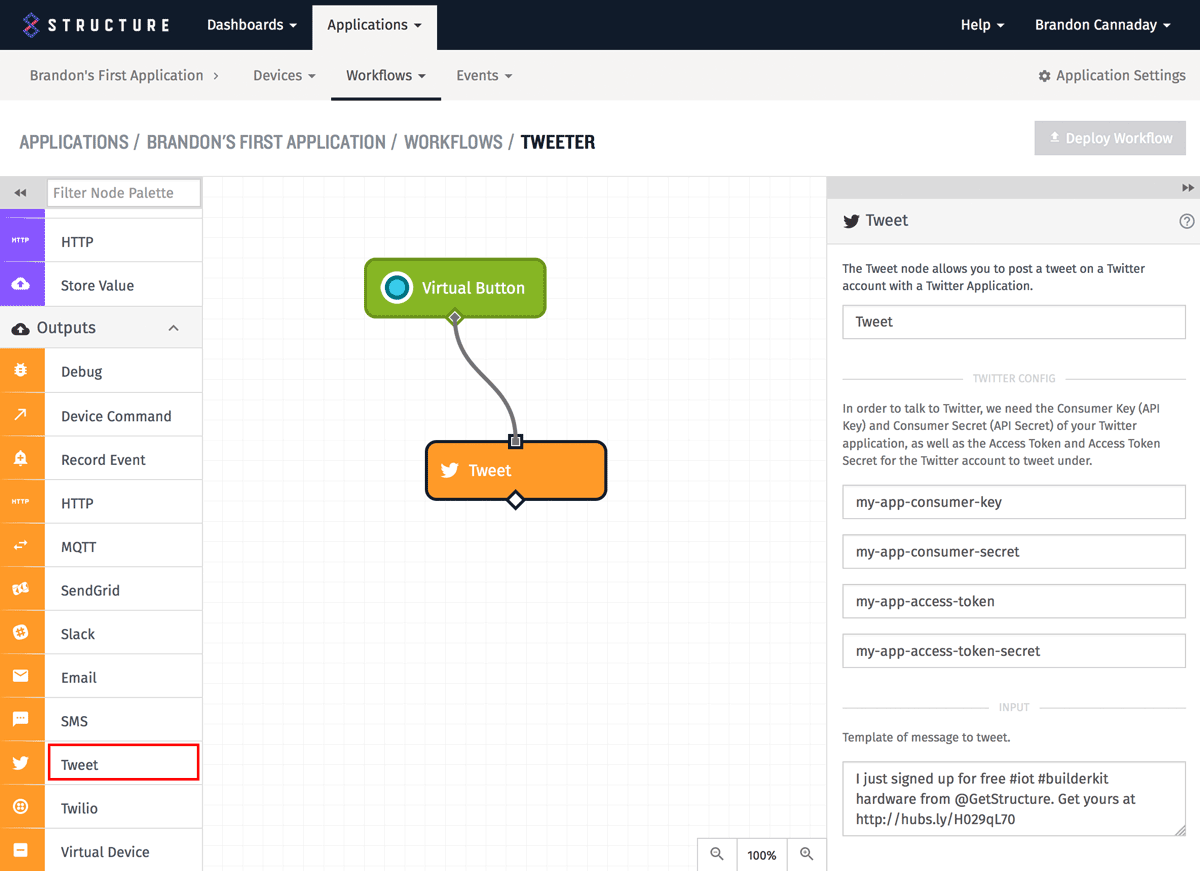 On the Tweet node configuration panel, enter the tokens created earlier from your Twitter app and the actual contents of the tweet you'd like to send.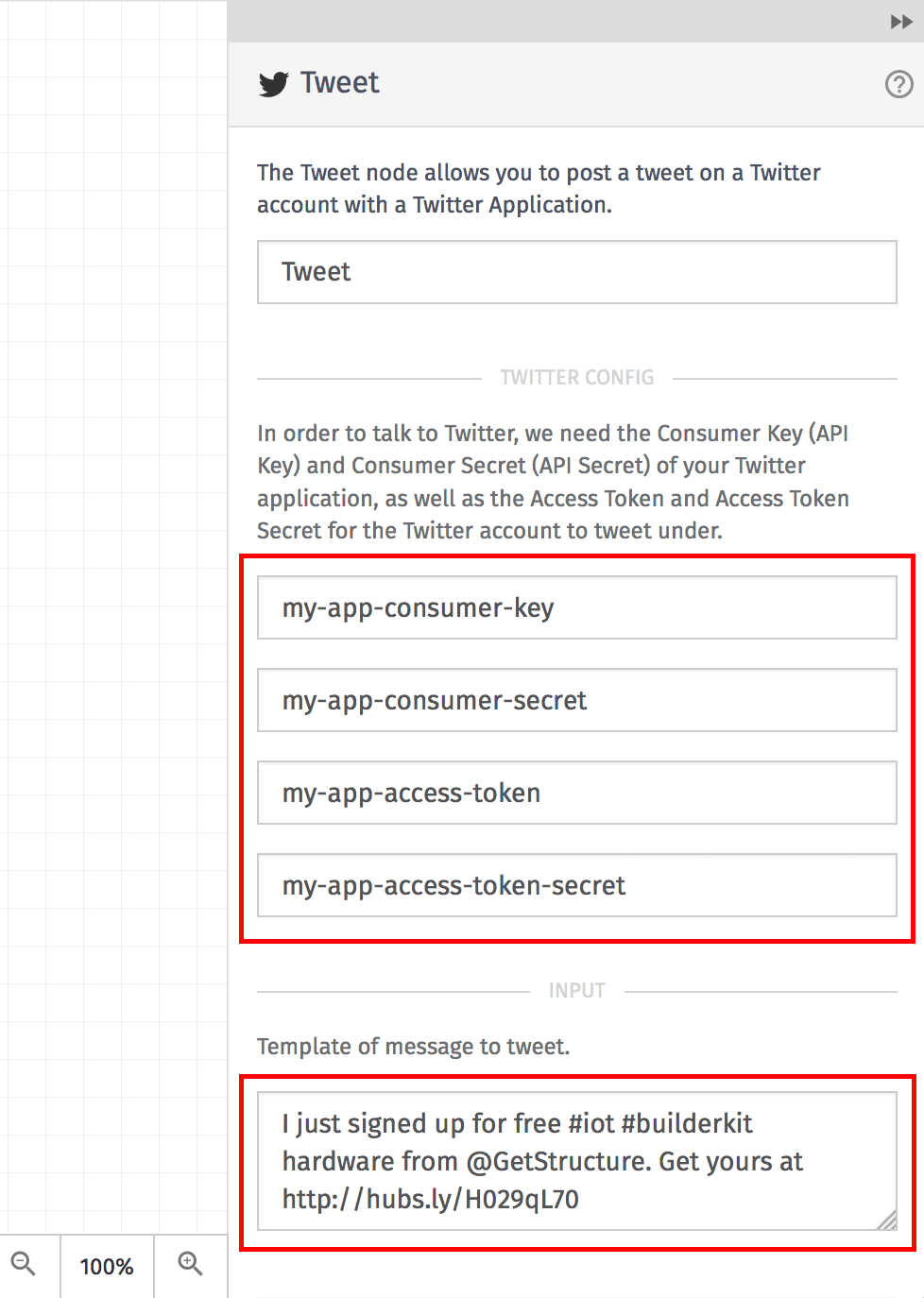 The actual message doesn't really matter, but what is required is the #builderkit hashtag and the @LosantHQ mention.
If you want to copy/paste one, we recommend:
I just signed up for free #iot #builderkit hardware from @LosantHQ. Get yours at http://hubs.ly/H029qL70
It's now time to deploy the workflow so you can click the button.

Once the workflow is deployed, click the virtual button to send your tweet.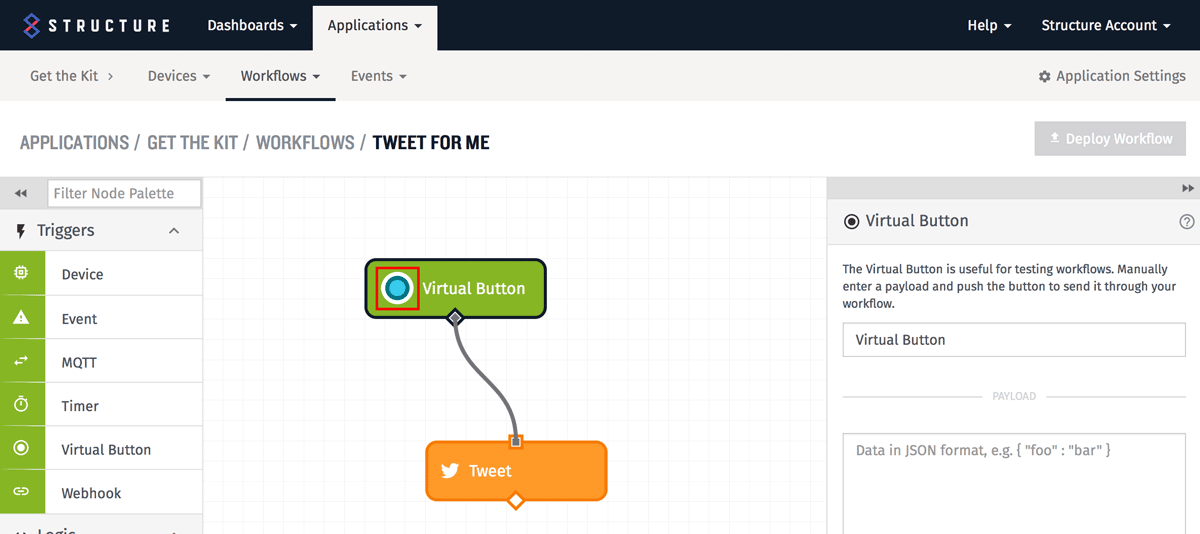 This workflow will tweet every time you click the button, so you may only want to click it once. After you click it, check Twitter to verify it worked. Once you've confirmed your tweet has been sent, you're all done!
Want to do more? We recommend doing the Losant Walkthrough, which uses a virtual device to build a really neat local weather dashboard.
Thank you for signing up for Losant! We can't wait to see what you build. If you do something cool, please put it up on our forums or tweet at us.