MEET WITH LOSANT AT MWC19 LA
To gain a footing in the race to develop products that exceed and anticipate needs, telecommunications companies must be abreast of the latest innovations, embrace the ecosystem, and align with an expert team. This fusion happens at MWC19 LA October 22-24, 2019. With experience in telecommunications, Losant is well-positioned to partner with your enterprise. Join Losant at MWC19 LA. Meet with us and take the first step in your journey.
Discuss Your
IoT

Vision With Us

Learn how Losant can help your enterprise reduce the complexity and time it takes to develop new products and services with IoT. Our team can share more about our telco industry experience in a face-to-face meeting.
DO YOU WANT TO OFFER UNIQUELY BRANDED, SERVICE-BASED SOLUTIONS TO A NUMBER OF VERTICAL MARKETS?
Many telco companies require a flexible platform to offer solutions to a number of vertical markets. Our application enablement platform can create new value around your network strengths. Put IoT to work for you and your customers quickly and profitably.
DOES YOUR DEV TEAM NEED TO BUILD SOLUTIONS EASILY AND WITHOUT COMPLEXITY TO GET INTO MARKET FASTER?
Losant is an easy-to-use and powerful enterprise IoT platform designed to help you quickly and securely build complex real-time connected solutions. We are lauded for our ease of use, drag-and-drop Workflow Engine, and thorough documentation, which is written by the engineers that built the platform.
DO YOU NEED A NIMBLE APPLICATION THAT CAN BE UNIQUELY ADAPTED ACROSS DIFFERENT VERTICAL MARKET SEGMENTS?
The Losant platform is known for ease of use, intuitive function, and navigation. As an application enablement platform, Losant comprises all of the components necessary to get solutions in market quickly and securely.
Losant is a winning bet
Large enterprises, including our clients Verizon and HPE, need a platform robust enough to handle experimentation, prototyping, and then scale to full production with millions of connected components. Losant's application enablement platform provides the foundation that can grow with enterprise clients.
Begin a Powerful Partnership
IoT creates new opportunities to expand your client base, grasp market share, and create new revenue streams. With Losant, you can deliver value to your clients and to their clients to achieve a competitive advantage. Losant endeavors to help clients deliver amazing solutions and experience tremendous growth, but we understand that some solutions require partnerships in place of single transactions. Meet with Craig to discuss the benefits of a Losant partnership.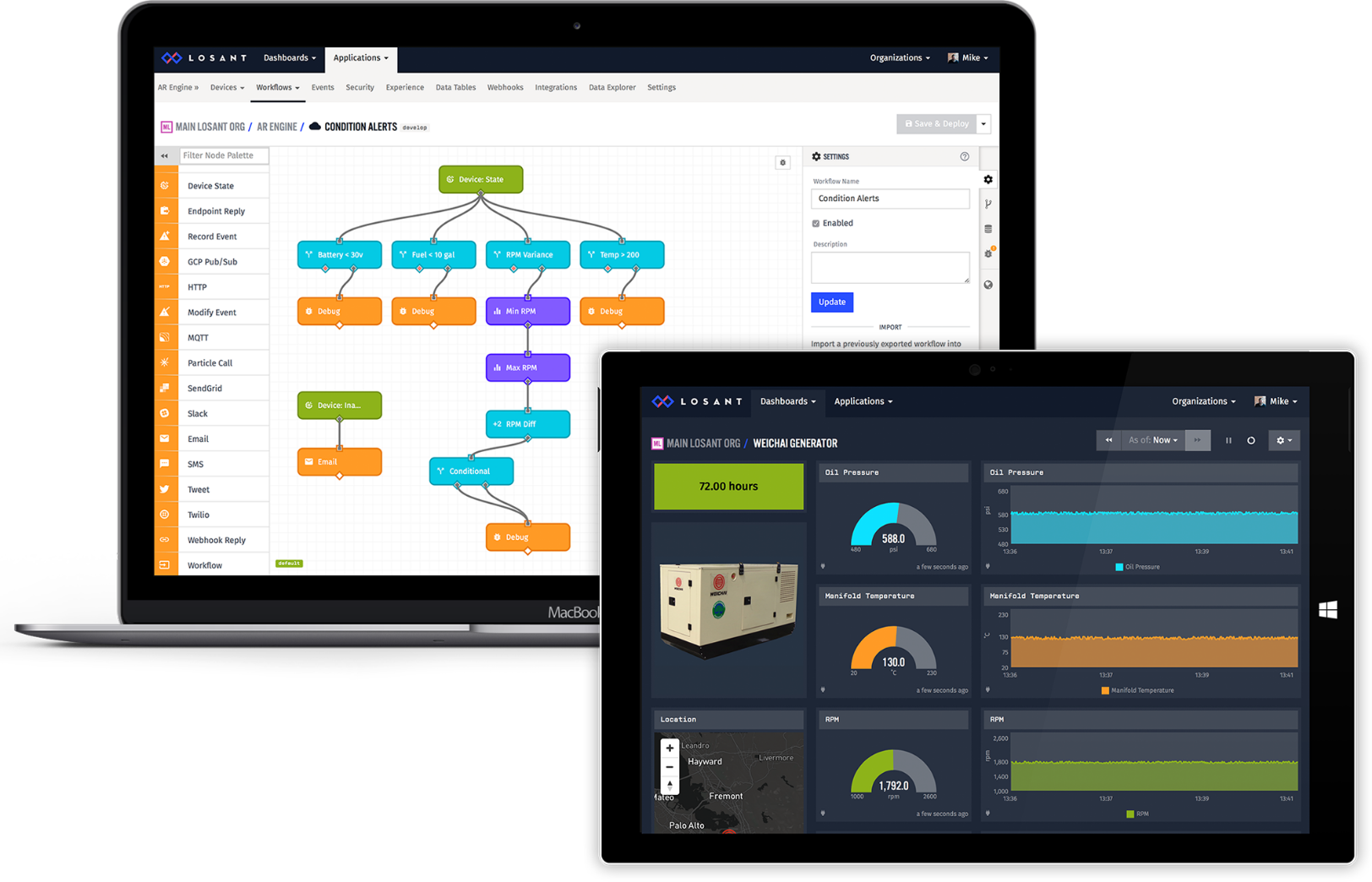 Why Losant?
Make faster and better-informed decisions with visibility to unified information from disparate devices, machines, and data sources.
Losant Accelerates the Creation of
IoT

Solutions

•

Reduced total cost of ownership

•

Improved customer experience

•

Increased developer efficiency
Get the latest from Losant
Be the first to receive Losant Guides, platform updates, webinar invites and This Month in Things.