Building full IoT applications requires vast amounts of knowledge across multiple disciplines. IoT touches hardware, cloud infrastructure, software, security, and more—each with their own respective platforms, solutions, and requirements. Nonetheless, Intel predicts that IoT is expected to grow to 200 billion devices by 2020.
"Every Company Will Be an IoT Company."
A significant number of organizations are still struggling to move past the proof of concept phase to see the value that IoT could have for their organization.
"Despite the forward momentum, a new study conducted by Cisco shows that 60 percent of IoT initiatives stall at the Proof of Concept (PoC) stage and only 26 percent of companies have had an IoT initiative that they considered a complete success. Even worse: a third of all completed projects were not considered a success."
However, amongst the successful projects, some standard practices and ideas surfaced:
Starting small
Creating a collaborative and technology-focused culture
Fostering expertise with partnerships
Starting Small
Your organization must begin with a small and narrow problem and use case. The most significant reason is, the smaller the initiative, the easier it will be to move into production. Extensive use cases will lead to more complex, unforeseen obstacles while transitioning to a production solution. Considerable initiatives hinder you from seeing results quickly; immediate data insights can help drive quicker business decisions.
"Starting small allows you to get something into your customers' hands quickly, which is the most important thing to do. You will learn, very fast, whether or not your customers even care. Start with the highest impact item, for example being able to remotely turn off an oven, and then let your customers tell you what to add next."
Brandon Cannaday, Losant CPO
At Losant, our solutions team has worked through many proof of concept processes for many different types of companies. We can help quickly implement a solution for your organization, develop success criteria and effortlessly deliver to full-scale production.
Collaborative and Technology-Focused Culture
As we mentioned, IoT touches many pieces of your organization, and in most cases requires extensive collaboration between sectors of your team that may not have had this level of cooperation before.
For example, in the case of information technology (IT) and operational technology (OT), both have their unique responsibilities but must work together to make IoT viable. The same is true for traditional business executives and IT executives. According to the Cisco survey on IoT, the collaboration between IT and the business side was the top factor that determined failure of a proof of concept.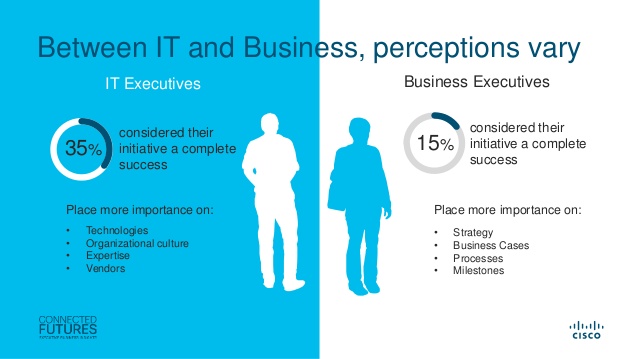 Source: Cisco
The culture of your organization must be technology-focused. IoT allows us to discover new problems and opportunities. IoT enables solutions across multiple verticals, but to be successful, an organization must be concentrated on technology. Verizon reported The State of the IoT Market, and they found what the top objectives were for IoT from various executives: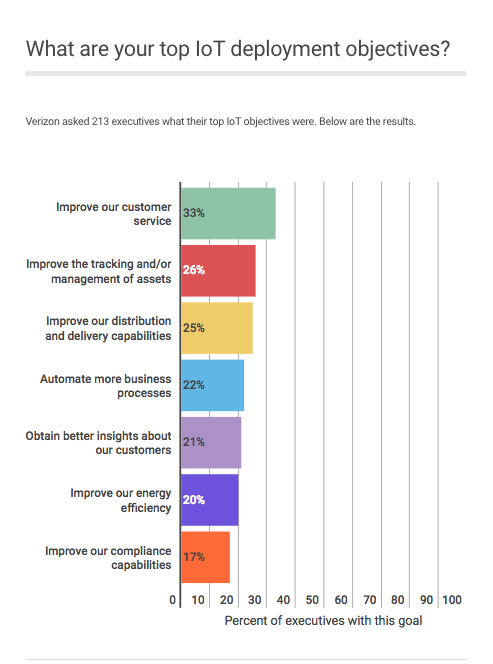 Source: Stacy On IoT
Every objective requires a culture that can innovate quickly on technology-based solutions. Strategically focusing on technology is the key to success.
Foster Expertise in Partnerships
You should be asking yourself three questions:
How would you rate you and your team's level of IoT expertise?
How confident are you that your existing software stack can meet the IoT business objectives?
How confident are you with your current technology vendors/partners to able to execute your IoT strategy?
One organization would rarely have the complete means and the internal expertise to implement a full end-to-end IoT solution. IoT allows us to discover new problems and opportunities. Your current technology vendors/partners have to be ready to innovate to account for these new obstacles and solutions.
The best solutions will leverage key partners throughout the entire IoT adoption process. For example, by adopting an IoT platform, you gain flexibility through speed, reduced overhead, ease of use, and lowered cost of the end solution. Using a platform is key to seeing results immediately.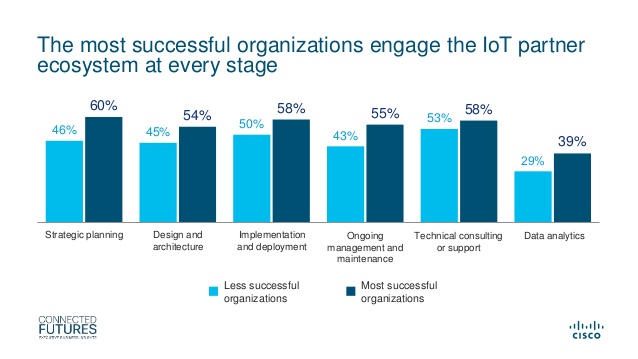 Source: Cisco
Not only will having partners reduce your risk of failure, but the partner will also help ideate, create, and support the initiative, and lead you through additional IoT possibilities and strategies.
So, Are You IoT Ready?
Starting small with a technology-focused culture, and embracing partnerships will ensure your success in IoT. At Losant we are continually having these conversations with our customers. As an enterprise IoT platform we continue to be a critical piece of our customers' IoT strategy, and we provide the best tools to take applications to production. We've also formed strong partnerships with various parts of the IoT ecosystem to make sure our customers are satisfied. We would love to have a conversation with you; feel free to reach out.