Declining attendance for live sporting events across the globe has owners clamoring for new ideas to woo sports enthusiasts to stadiums and arenas. With pressure to compete against fans' cozy at-home viewing experiences, teams and leagues have invested billions into smart arenas and smart stadiums like the Golden 1 Center, home of the Sacramento Kings NBA team.
For example, an IoT system named NINA has taken the place of bartenders in the Golden 1 Center's suite and loft areas. To use it, customers first enter their desired drink order into a tablet to start a tab. The bottles that are required for the drink will light up through connected bottle caps and unlock. The cap measures the amount of alcohol needed to ensure that customers don't over-pour. The system not only delivers service to VIP customers in a timely manner, it also helps to process payments and helps with liquor ordering. This is just one example. According to Grand View Research, the global smart stadium market size is expected to reach $22 billion by 2025.
One-of-a-kind experiences like this one are possible by a strategic design that fuses IoT and other technologies to create one of the smartest arenas in the world. In this article, we'll look at the methods smart stadiums are using to enhance experiences from data insights. We'll also explore a few examples of how IoT is a critical part of many implementations.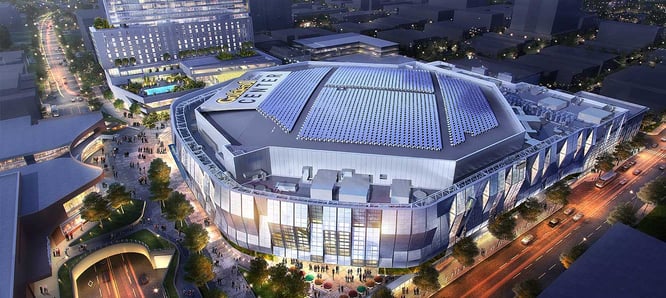 What Is a Smart Stadium?
A smart stadium integrates a variety of systems, including sensors, cameras, digital signage, and existing building automation tools with wireless networks and servers. Smart stadiums use IoT to deliver real-time information for a one-of-a-kind fan experience. Smart stadiums can provide information about parking, bathroom availability, directions to seats, concession line length, seat upgrades, and promotions.
Real-time data from smart stadiums enhances convenience for fans with seamless purchase options and helps promote safety and cleanliness by enabling staff to respond quickly to incidents — which, according to a Deloitte 2018 Sports Fan Engagement study, is exactly what they want. A clean, safe, and comfortable stadium.
Smart arenas and smart stadiums offer a unique opportunity to gather data from fans. Visitors get the convenience of easy payment solutions, increased bandwidth, wayfinding, and promotions while stadium owners get behavioral data from beacons, sensors, cameras, and mobile apps that can help them build new personalized experiences.
Creating Smart Stadiums and Smart Facilities With
IoT
Even if your budget is not $500 million like the Sacramento Kings, there are still opportunities to create a smart stadium with one-of-a-kind experiences. According to a report by the Harvard Business School, "whether the venue was built in 1912 or 2012, either can be smart."
Many of the stadiums in North America surveyed by the Sports Innovation Lab for the HBS report that have LTE, DAS, and WiFi were actually built before 2000. Smart stadiums don't necessarily have to be re-built from the ground up. Many can use IoT to retrofit existing structures.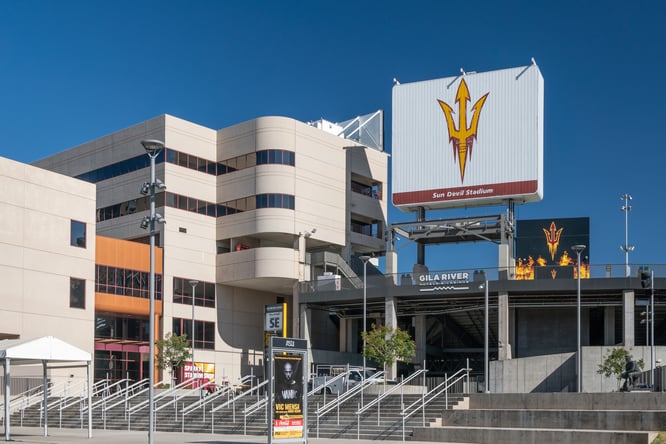 Who Is Doing This and How?
A few years ago, when Arizona State University started renovations on its Sun Devil Stadium, they knew that the project would need to start with a robust network to support classrooms, meeting rooms, and retail as well as a supreme fan experience.
In addition to adding holes for conduits and cabling, stadium operators also added 250 new DAS antennas for a vendor-neutral network that could support fans' connectivity needs. The stadium is also outfitted with 1100 APs or access points with 1 for every 50 people in the student section. IoT sensors work alongside the stadium APs to measure temperature, noise, vibration, and other environmental data.
At Norway's Telenor Arena, additional bandwidth combined with a mobile app helped increase in-venue purchases. By creating app-only pickup bars, the arena cut the amount of time it took for fans to get a drink from five minutes to 90 seconds.
Mobile apps help augment services and promotions. Levi's Stadium in Santa Clara California is home to the San Francisco 49ers. Inside of Levi's Stadium, there are more than 2,000 battery-powered beacons from Aruba Networks. These beacons are being used to help identify the location of fans. IoT data from beacons is processed through the Levi's Stadium app and collected by the team's mobile application to help fans find seats, order food, locate concessions, and more.
The University of Alabama also has an app tied to geolocation, created by FanMaker, which rewards students with Tide loyalty points if they stay until the end of a game.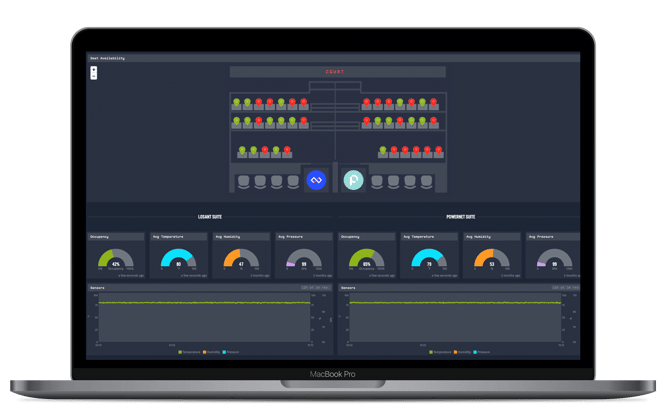 Retrofitting With
IoT
At the 2019 Western & Southern Open, Losant used IoT to create a smart stadium solution. We first joined forces with our partner, Powernet, who provides all the stadium's internet and WiFi. We outfitted each seat outside of our suite with Ruuvi sensors. We connected those sensors to Rigado gateways to track individual seat utilization throughout the day. Losant's application enablement platform was used to collect, aggregate, and present live and historical data.
By using IoT to capture seat occupancy information over the course of twelve hours, we gathered insights about how fans interacted with the suite environment. The same seat utilization sensors, deployed stadium-wide, could offer a wealth of additional information about how traffic flows through an environment.
Smart stadiums can provide ideas for your smart environment. If you'd like guidance about how to integrate IoT for insights about your environment, review our Losant Guide on the Comprehensive Smart Environment. If your enterprise could benefit from orchestrating existing smart systems with an IoT platform, take a walk through our platform with one of our Solution Architects and learn how an IoT application enablement platform could benefit you.