It's now easier than ever to deploy large-scale production IoT solutions using the Losant platform. Today's release brings multiple self-service organizational plans that provide team collaboration, additional devices, more payloads, and increased data retention.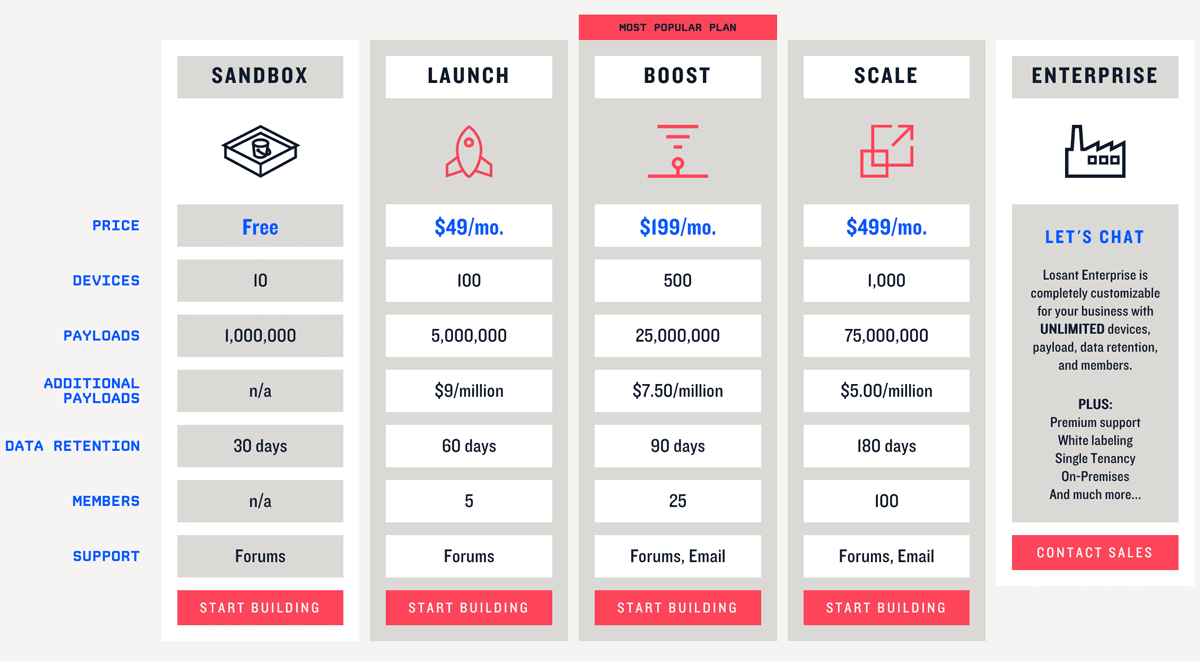 The screenshot above is our updated pricing page, which reflects the newly available tiers.
the Development Sandbox
With this release we've introduced a new concept called the Sandbox, which is a free and fully functional development environment. When you're ready to scale up or start collaborating with team members, you can easily transfer resources from your Sandbox to an organization.
What Will Happen to My Free Account?
All free Losant accounts have been migrated to a Sandbox. No action is required on your part and all applications will continue to function without changes.
In an effort to make the free tier easier to understand, we've made some changes to how the limits work. Prior to this release, each user had an application limit and a device-per-application limit. We've removed the application limit and now the device limit is per Sandbox or per Organization.
In the previous plan it was possible to exceed the new device or payload limits. There was a very small subset of users where this was an issue. Those users have been automatically grandfathered into the new plan with higher limits. All other users now fall under the new tier.
New Sandbox and Organization Overview Pages
Each Sandbox and Organization now has an overview page to easily view the applications, dashboards, and resource usage. Your Sandbox and each Organization can be accessed using the new "Organizations" menu at the top of every page.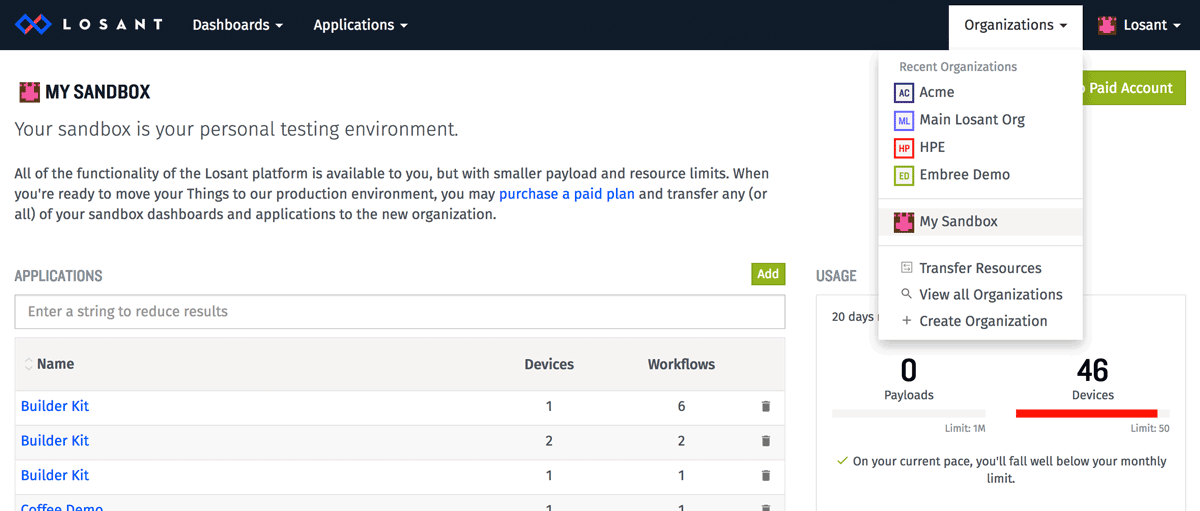 For the Enterprise
Losant Enterprise plans provide additional functionality beyond the self-service tiers. This includes:
White labeling
Single tenancy data
On-premises deployments
Scaling to millions of devices
Much more...
If your company requires one or more of these features, we'd love to hear about what you're building and find out how Losant can help deploy your solution.
What's Next?
As always, many of our new features and improvements come directly from user suggestions. If you have something you'd like to see become part of our platform please let us know in our forums.
About Losant
Build real-time IoT solutions with ease.
Now you can connect the unconnected. With Losant IoT developer platform, your devices and data come together to create the Internet of Things solution you need.