Losant Platform Overview
The Losant Enterprise IoT Platform is an application enablement platform which allows enterprises to effectively build applications and create solutions that securely scale to millions of devices. Components work seamlessly together to transform real-time data from connected and non-connected devices into custom end-user experiences.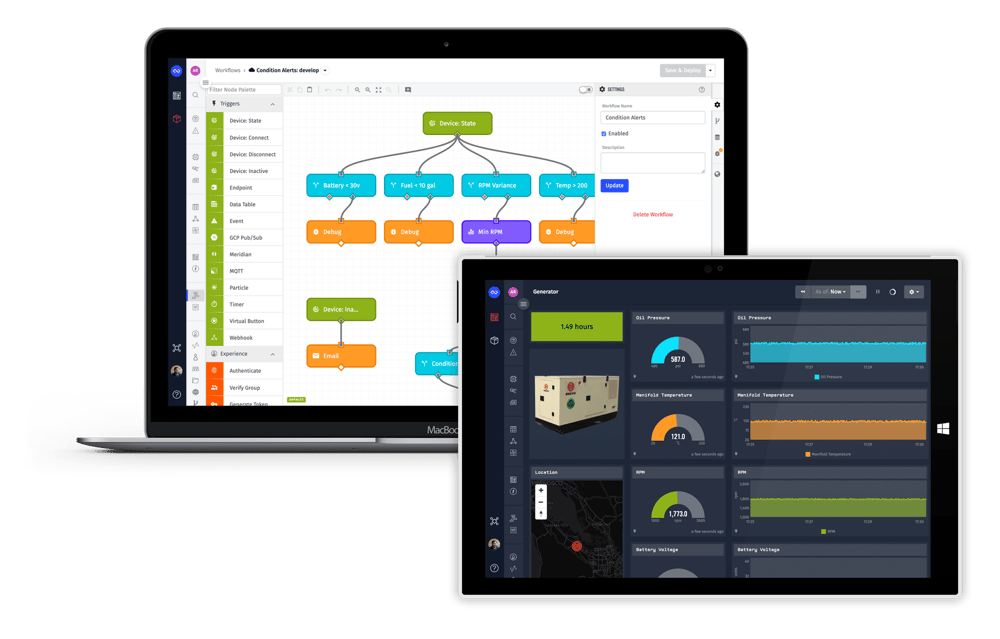 The Losant Platform Components
End-User Experiences
Losant's fully-integrated End-User Experiences functionality provides all the tools necessary to build completely custom and branded user interfaces and APIs.

Visual Workflow Engine
Losant's proprietary Visual Workflow Engine is the fundamental component of our platform. This engine helps quickly implement business logic and provides a unified development tool.
Component Features
Drag and drop editor
Built-in versioning
Custom nodes
Real-time debugging
Highly scalable cloud execution
Losant Edge Agent for local execution
Data Visualization
Losant's Data Visualization provides easy-to-use drag and drop dashboards which connect directly to your device's data. Securely publish dashboards internally or externally. Visualize data with real-time stream processing or integrate Losant Notebooks for batch processing.
Component Features
Multiple dashboard blocks
Scheduled reporting
Drag and drop layout tools
Real-time visualizations
Input controls
Jupyter Notebook Integration
Devices and Data Sources
Losant's Devices and Data Sources functionality helps to normalize data and provides storage in Losant's data warehouse for easy access and further application enablement.
Component Features
Built-in data warehouse
Bulk creation and device recipes
Hosted MQTT and REST API endpoints
Integrations for third-party device management
Custom data tables
SDKs for Arduino, Node.js, Ruby and Python
Edge Compute
Losant's Edge Compute bridges the gap between your local environment and the cloud by allowing workflows to run directly on your own gateways.
Edge Compute Features
Remote updating from the cloud
Local buffering to prevent data loss
Losant Edge Agent shipped as a Docker
Support for Modbus TCP
Access to local file system
Remote commands triggered from the cloud
Get Started Immediately
Whether you're a developer looking for more information or a VP looking to learn more about our PoC process, the Losant team can answer any questions you may have. Choose your category in the box below and you'll be on your path to IoT success.
View Documentation
Learn more about the platform and how to build IoT applications using detailed documentation written by Losant staff.
Jump in the Sandbox
Create an account to gain access to product features for free. Build at your own pace with help from Losant University, documentation, and forums.