According to McKinsey, companies across the globe spend around €300 billion per year on warehousing managed in-house or through third-party providers. That number comprises operating expenses, labor, space, and equipment used to receive, sort, store, pick, pack, and distribute products. In the US alone, eCommerce sales continue to grow at over 15 percent annually. Nearly everyone is now a smart, connected consumer with high expectations for supplier communication and expedited shipping of goods. To remain competitive against the Amazon-effect, an increasing number of businesses are relying on smart warehouse technologies to accelerate processes.
While robots and drones are not yet the norm for every warehouse, individual IoT applications have the potential to transform traditional warehouses into smart warehouses. You may already have the equipment to gather data. When multiple solutions are combined through an IoT platform, warehouse operators can better manage inventory, automate processes, improve supply chain transparency, and save costs in the process.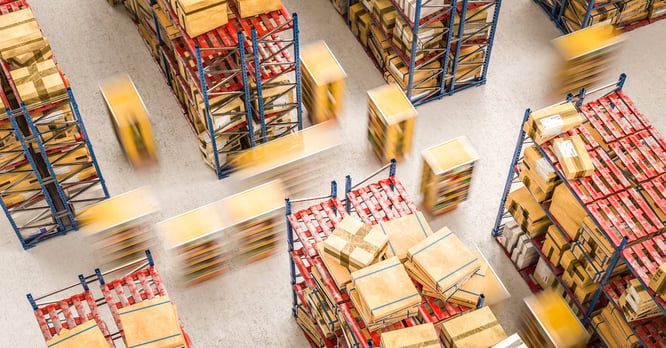 How Does a Smart Warehouse Work?
As with most smart environments created using IoT, a successful smart warehouse combines data from warehouse processes with building automation systems for comprehensive management and control of operations. A smart warehouse reduces error and increases efficiency with sensors, robotics, wearables, AI, RFID, and warehouse management systems (WMS). Although adoption is often inhibited by the interoperability of new and legacy systems, some operators are finding value in starting small with measurable IoT solutions.
Smart Warehouse IoT Solutions
Smart Inventory
A smart inventory system can provide operators with real-time inventory control and management.
By outfitting inventory with physical Bluetooth or RFID tags that can be tracked through an IoT platform, teams can send up-to-date quantity information to the Cloud to assist with reporting, manual picking, and ordering. Inventory tracking also helps prevent damage and loss. RFID tags can also help operators understand how much of an item is being ordered and how frequently something should be re-ordered.
>Even a slight temperature or moisture fluctuation can significantly impact the integrity of pharmaceuticals or some foods. Connected temperature and humidity sensors can also be connected to an IoT platform to protect inventory that requires a specific environment, for example, such is the case with cold chain monitoring.
Knowing the real-time location of inventory can accelerate service and allow an organization to provide updates to customers. Assets can be tracked globally or indoors using IoT.
Remote Monitoring
An IoT implementation can provide operators with a view of warehouse operations from anywhere.
By connecting existing sensors in warehouse machinery with an IoT platform, operators can know the condition of equipment (from forklifts to hand scanners) and alert staff when service is required. This is a form of condition-based maintenance. This implementation can often be retrofitted with existing equipment using an IoT platform that can accept industrial protocols.
A real-time view of a facility can help operators monitor and control shut off valves remotely in case of emergency or to prevent waste. IoT-enabled machinery can also be monitored for productivity and reports.
Using sensors to monitor a facility can also help with safety by reducing risk by alerting staff about dangerous situations. Additionally, IoT-enabled robots can go into environments not safe for humans.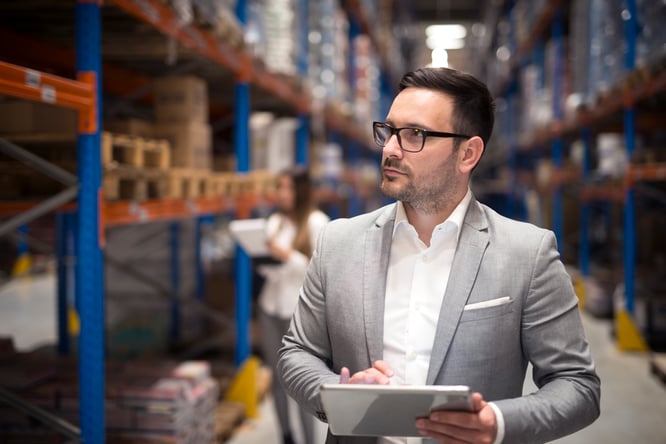 Gain Efficiencies With IoT
Any environment can become a smart environment with IoT. To optimize and realize the value of data to make the most efficient building, office, or warehouse a team must make manual processes digital processes first. Many machines and environments already have sensors. Connect existing sensors or use new sensors with gateways and collect data from varying building systems, processes, or machines. When data flows into an IoT platform, it becomes more accessible. Once data is accessible, processes can be monitored and this information can be used to acknowledge anomalies, gather insights, and improve processes.
Losant can help your team create smart warehouse applications with new and existing equipment using our IoT platform. Discover how your team can make your warehouse or other environment more efficient without needing to rip and replace systems. Schedule a walkthrough of our platform with one of our Solution Architects and learn how IoT can enhance your business.