Today's platform release includes a variety of quality-of-life improvements to multiple platform features, many of which were requested by our users.
Custom Node Usage
A question numerous developers have asked us over the years is, "How can I easily tell which workflows are utilizing a given custom node?" Today's release adds a new tab to the interface of a custom node that answers that question.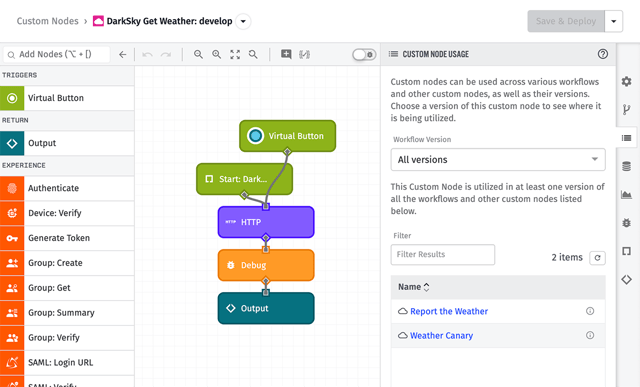 What once required manually checking multiple workflows and their versions is now a single-step process from within the custom node editor to determine all the places across your application that the custom node is being utilized.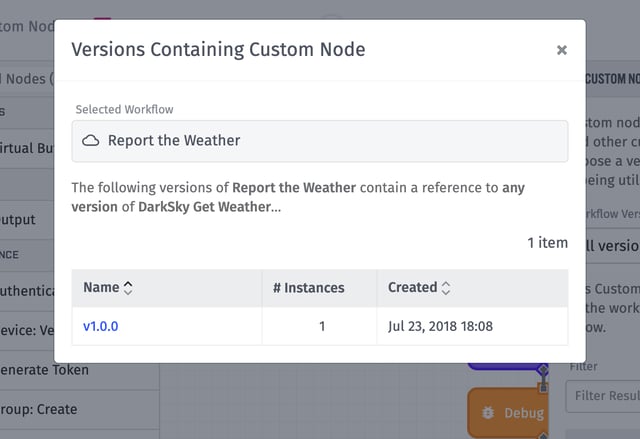 Now, by utilizing the new tab, we can see at a glance which workflows are utilizing a custom node. We can then optionally drill down further to see which versions of a given flow are utilizing the node.
Data Table Block Customization
Another often-requested feature included in this release is the ability to define which columns to display in the Data Table Dashboard Block. This is a feature we had previously rolled out to the Device List and Event List blocks, and now dashboard builders can decide which data table columns to expose to their users within this block.

Existing blocks will continue to display all of a data table's columns by default, but they can be edited at any time to add, remove, or rearrange the order of the columns as you see fit. For example, the "id" column is rarely relevant to a dashboard consumer, and this update allows for reclaiming some of the visual real estate previously dedicated to that column.
Additional Updates
Along with those two new features, we've also added a number of smaller improvements as part of this release:
REST API Updates
For those who are using our public REST API directly, there are a few additional updates:
Template Library Updates
We're continuing to grow our Template Library with new entries designed to demonstrate Losant best practices, shorten time to market, and improve end user experience. Here are some of the templates we've added in the last few months:
What's Next?
With every new release, we listen to your feedback. By combining your suggestions with our roadmap, we can continue to improve the platform while maintaining its ease of use. Let us know what you think in the Losant Forums.