As more and more industrial equipment becomes smart and connected, artificial intelligence (AI) has created an opportunity for OEMs to overcome operating inefficiencies by leveraging their Internet of Things (IoT) data in new ways. While the Losant Enterprise IoT Platform provides the software foundation for IoT, many components must come together to create a full-scale IoT application that leverages the power of AI. Our partner Elipsa is a no-code analytics platform designed to empower IoT users to apply machine learning without the need for a data scientist. Machine learning is the branch of AI based on the idea that systems can learn from data to identify patterns and make decisions. Utilizing machine learning, Elipsa analyzes data streaming from your Losant instance to identify patterns that drive predictive insights. Elipsa starts learning as soon as your machine is turned on, allowing for quick, fully automated deployments in hours or days instead of months. This flexible approach to AI, coupled with Losant's low-code IoT platform, enables organizations to easily identify problems and unwanted outcomes before they arise, allowing them time to take corrective action.
Elipsa's AI platform collects live IoT data from your connected machines, then automatically trains, tests, and deploys a machine learning model for each of your assets. Once deployed, Elipsa finds patterns that are indicative of future problems and provides predictions based on all the available data. The results are then sent to your Losant dashboard and workflows resulting in an end-to-end predictive maintenance and monitoring solution.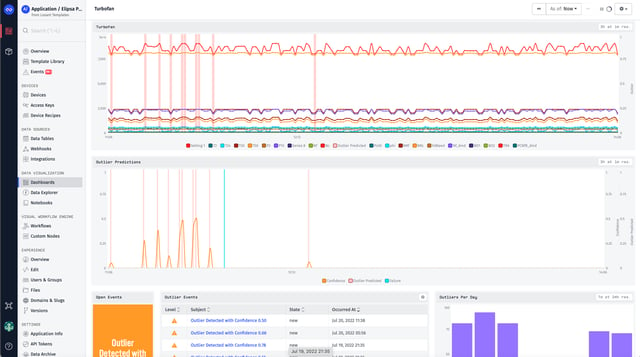 The idea behind Predictive Maintenance is to increase machine uptime, output, and safety while reducing breakdowns, and maintenance costs. "Basically, Elipsa's AI learns what normal operations looks like so that it can analyze real-time data for any and all types of abnormalities," said Jeff Kimmel, Co-Founder and CEO, Elipsa. By leveraging machine data, the Losant Elipsa integration can effectively solve the problems of unplanned downtime and operating inefficiencies.
Make Predictive Maintenance a Monetizable Service
With IoT, higher-level value delivery is realized through enhanced learning and draws from the ability to sense, monitor, and gauge equipment performance. It allows the company to organize and visually present, store, and share operating data. Value delivery through enhanced learning leads to significant new user benefits and experiences such as; remote monitoring, condition-based maintenance, and predictive maintenance.
Losant, coupled with Elipsa AI, allows any organization to create new revenue streams through subscription services that have a meaningful impact on their customers operations. For example, industrial manufacturers leveraging Losant and Elipsa can seamlessly collect data and deliver predictive applications to customers once their equipment is deployed in the field.
Elipsa's platform eliminates the complexities of AI-based predictive maintenance for OEMs and dramatically speeds up time to insight.
"Because we take the approach of learning what normal looks like to search for abnormalities, we are able to build models and get to insights in days, not months,"
Jeff Kimmel Co-Founder and CEO, Elipsa
Beyond predictive maintenance the insights gained from the AI data allow OEMs to make better decisions, enhance product lifecycles, and improve the overall cost of quality of their products by reducing recalls and enhancing warranties, directly contributing to brand equity and competitive advantage. For example, OEMs can use the insights drawn from Losant and Elipsa to identify defects before they are ever released to the market. This reduces recalls, warranty claims, and the general costs associated with these issues.
IoT Partnerships Add Value to Your Enterprise
Elipsa's Rapid Deployment Templates enable users to quickly build models for any type of machine. More so, the deployment and retraining of the AI models is fully automated, and all of the insights gathered from the data are seamlessly delivered to Losant platform, giving OEMs a unified view of equipment metrics and health. Kimmel commented, "our core competency is on the predictions using AI, and we know that people don't want another system just to look at the predictions, so we purposefully return the insights from the AI to the Losant platform. This feature provides users with a single application to view all of its collective IoT and AI data insights."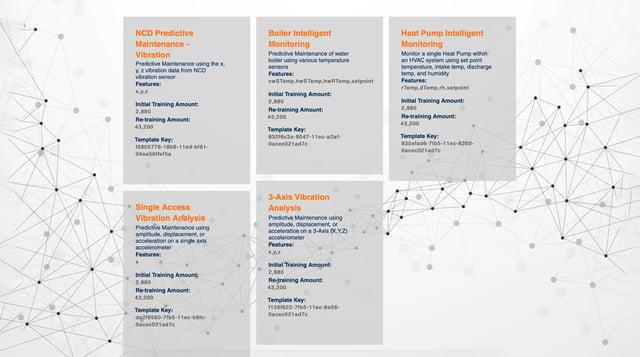 The integration of Elipsa and Losant creates the link between AI and IoT that is necessary to deliver practical use cases and tangible benefits, like the applications discussed here. "Starting with AI-based anomaly detection is a much easier lift because many companies do not have a lot of recorded examples of machine failures. This crawl-walk-run approach to AI leads to measurable success in both the immediate and long-term avoiding months or even years of disappointing experiments before seeing results," said Kimmel. From there, AI has the power to make predictions and identify abnormalities that are indicative of a future failure, benefitting both OEMs and their customers.
OEMs and their customers now have the power to monitor all their devices, identify abnormalities, and avoid unwanted outcomes in one end-to-end solution with Losant.

If you'd like to learn more about how Losant can help your organization meet its IoT application development needs, connect with us here.