Using IoT to create smart environments, smart offices, and smart buildings can yield benefits for enterprises beyond energy cost savings. Smart environments not only attract top talent but real-time data gathered from facilities can help organizations make informed decisions related to productivity, innovation, safety, and efficiency. The investment is well worth it for property ownership groups as well. In a macroeconomic report done by the European Commission, a smart, higher-performing building can conservatively add up to 11 percent in lease value and can ultimately yield 5 to 35 percent in higher sale values.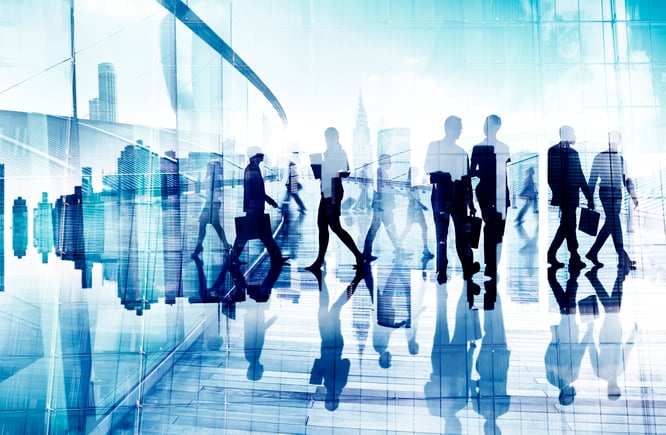 What Is a Smart Environment?
A smart environment can be or can include an office, floor, building, warehouse, or campus, and reflects an organization's commitment to decisions backed by data. A smart environment uses the seamless amalgamation of sensors, beacons, and building systems to extract data which can optimize resource efficiency, enhance productivity, and provide security for associates.
Many organizations are jumping on the trend with smart appliances, smart lights, and smart systems which may help manage one part of the business. For instance, an application may be in place to help with indoor tracking or inventory management. However, disparate smart systems from different manufacturers often create data silos and do not communicate to create one cohesive system. An ideal smart environment connected and orchestrated by an IoT platform allows an enterprise team to gain a complete picture of its environment by gathering new data and combining it with information from existing systems. Below are a few examples of organizations already using IoT to create and improve smart environments.
Smart Building Unification
At District Center in Washington DC, IoT is being used to propel the building from simply being a structure into an asset. District Center, which offers one of the best examples of a unified smart building is an 820,000-square-foot building built in 1998 that occupies an entire city block. The building's ownership group, MetLife Investment Management Group, commissioned JLL and a strategic team of partners to retrofit the District Center to create a smart environment.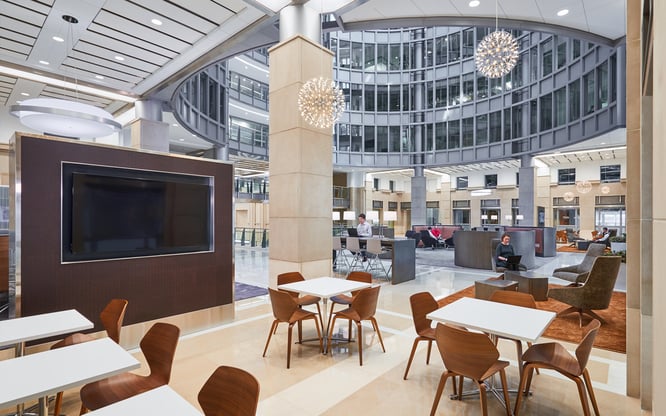 Instead of solving one problem, the team which included systems integrator SmartBT and Federated Lighting helped to provide tenants with a 'new suite of digital amenities.' The building includes light fixtures with multiple sensors inside. Lights report noise levels and passive infrared to detect building capacity for code requirements. In addition the lights include Bluetooth beacons to assist the building's wayfinding mobile app. Using the building's unified system and real-time information which was accomplished by integrating the IoT devices, tenants and guests are also able to control blinds, set room temperatures, and book conference rooms through a mobile app.
The project team responsible for transforming District Center in Washington, D.C. recently won the "Unified Project of the Year" award from Distech Controls. In the words of Distech's president Martin Villeneuve: "They understood the value of a smart, connected facility that goes beyond energy efficiency by transforming a building into a strategic asset."
Safety and Security
IoT in a smart environment can also be used to increase precision and timing in reporting safety and security issues. In a number of cities, IoT is being used to increase response times for emergency personnel to help save lives and reduce crime rates. ShotSpotter is one example of a gunshot detection technology backed by IoT, sound sensors, and the visualization of real-time data. By pinpointing the location of gunfire using a network of sensors, integrated maps and data verification ShotSpotter, which is monitored 24/7, dispatches police to the scene of the crime without it needing to be reported. This technology has already helped to reduce crime by nearly 50 percent in one Cincinnati neighborhood between 2017 and 2018. It has also helped crime rates and arrests in Oakland, Denver, and Chicago. This technology is not exclusive to cities but is also adaptable for use on campuses and in office environments. Increased response times with the help of real-time data helps to save lives in the event of active shooter situations.
Space Optimization
Many organizations are moving toward open floor plans and replacing cubicles with desks that can be reserved. This practice is often called hot desking. These spaces are designed to promote efficiency and collaboration but without communicating real-time availability information, they may not be effective for visitors or those who cannot easily navigate to open spaces for work or meetings.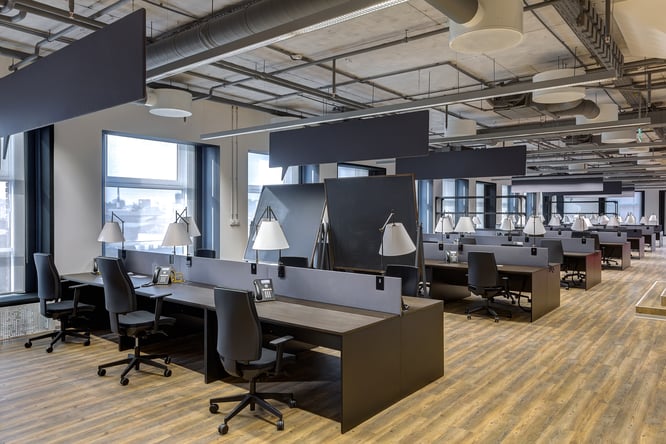 The Losant Enterprise IoT Platform effectively helped an organization with an open environment improve this issue using IoT. The client wanted to provide information to its visitors and associates about open spaces to work and meet while also gathering data about whether or not people were using open desks. The organization first installed motion sensors on desks to determine if someone was in a desk space and connected the information to an indoor map. Using Losant Experiences, the team created a user interface and installed a touch-screen monitor for associates. The touch-screen monitor informs associates in the environment which desks are open and which are in use and delivers it in real-time. On the backend, data is collected about how often the spaces are being used to help the facilities team make decisions.
The Losant Enterprise IoT Platform serves as an orchestration layer which facilitates seamless interactions between smart office or smart building technology systems and the people that will use them. Data from multiple systems can be combined into a single-source API for all building systems which makes it simple to change or upgrade components in the future, creating a true smart environment.
With the right partners, a smart environment is well within reach. Start with the opportunity that will delight your workforce or increase efficiency in a way that complements your organization's business goals. If you'd like to learn more about Losant and how to create a smart environment using IoT, contact one of our Solution Engineers today.