Digital twins are certainly not new. One of the early and most famous examples of digital twin technology is from NASA. It allowed engineers to operate, maintain, and repair machines that were in space, while they were here on earth.
But thanks to IoT, digital twin technology isn't just for aerospace anymore.
Today, the rise of the Internet of Things and the ecosystem surrounding it have made digital twin capabilities attainable and affordable for far more enterprises.
According to IDC, by 2020, 30 percent of Forbes' Global 2000 companies will use data from digital twins of IoT-connected products and assets to improve product innovation success rates and organizational productivity, achieving gains of up to 25 percent.
Digital twins have long left the lab. Today they are being used by engineers across a range of industries including but not limited to:
Manufacturing
Smart buildings
Smart cities
Renewable energy
Aerospace
Agriculture
Healthcare
Creating and maintaining a digital twin of an environment, machine, facility, or living thing enables a team to make changes, train staff, or test scenarios without disrupting existing processes; which is why more enterprises are interested. Digital twins also provide teams with the opportunity to collect data in real time and analyze ways to improve. Preventative maintenance, machine learning models, and connected services can all be launched using digital twin technology.
What Is a Digital Twin?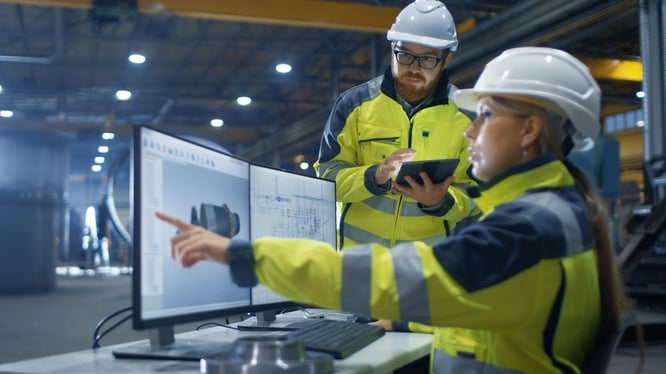 A digital twin is a virtual replica of a living or non-living physical asset. It can be further defined as a digital replica of potential or actual processes, people, places, systems, and devices. Digital twins, according to Gartner, are created with the objective of understanding an asset's state, responding to changes, improving business operations, and adding value. The term was coined in 2002 by University of Michigan professor, Michael Grieves, but rose in popularity in 2017 when the technology appeared on Gartner's Top 10 Strategic Technology Trends.
The value of digital twins has not yet been realized in every industry. However, some organizations have discovered new capabilities that help their teams better serve customers. Others have created revenue-generating digital services in response to real-time data.
What Kinds of Organizations Are Using Digital Twins?
Outside of the traditional use cases in aerospace, on the manufacturing factory floor, and in healthcare, there are several ways enterprises can benefit from digital twins' data output. By affixing sensors to physical objects, creating virtual prototypes, and using local networks and/or edge computing to continuously monitor an activity, you can see what's happening in the real world and use it for your business' advantage.
Here are a few examples of how organizations use digital twins in nontraditional and innovative ways:
Smart Campus Environment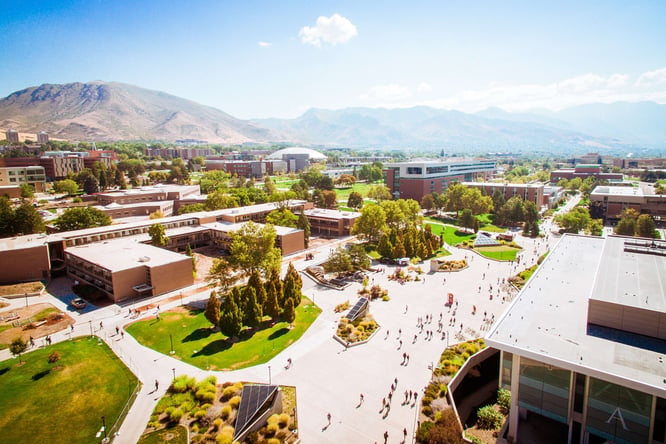 Many organizations may not immediately consider using a digital twin for a smart environment. But, the high availability of sensors, smart building technology, and IoT platforms have made the opportunity far more feasible. Creating a digital twin with IoT can assist with data collection and data analysis about how people are using a space. Leadership teams and facilities teams can use the information from a digital replica of your environment (floor, building, or campus) to create future floor plans, promote energy efficiency, or enhance safety and productivity.
One of the best examples of how digital twins can create smart environments is the case of the smart campus, which is gaining in popularity. Abertay University in the UK has a complete 3-D model of its entire campus. This includes the interiors of its major buildings, every room, hallway, and every floor. This digital twin of the environment can be downloaded by students, faculty members, and visitors. As technology advances, maps can use IoT data from sensors on campus to provide users with real-time alerts about safety or events, wayfinding assistance, route planning, or new construction simulations. Smart campuses are equally beneficial for students and administrations. Data can help colleges achieve the most efficient use of resources for cost savings and also enable a new set of services favored by digital natives.
IoT-Enabled Product-as-a-Service
Digital twins also offer enterprises the ability to create new business models and access new markets by offering a product-as-a-service. This model works best for expensive assets that other businesses may not have an interest in owning. Instead, the manufacturer owns the product and charges consumers or other businesses for use, productivity, and maintenance. By creating a digital twin of a product in use in market, manufacturers can monitor activity, collect data about the combination of conditions that will show the product needs maintenance and begin to create predictive maintenance models. With consistent monitoring and a data-backed maintenance model, enterprises can increase uptime, maintain ownership of its equipment, and lease a machine for services. Although a product-as-a-service business model is very useful for OEMs, a French startup called Connected Cycle has taken a different spin. The company created a connected product that makes digital transformation easier for bicycle manufacturers and bicycle-sharing company owners to create an as-a-service business model. By using a device, formerly the bicycle pedal, equipped with sensors, GPS, and connectivity, the company creates a digital replica of each bike to offer owners geolocation services. This includes theft-prevention, fleet management, and usage-based billing.
New Services for OEMs
Typically, after a piece of equipment leaves a facility and is delivered to a customer, OEMs receive no data about the machine until it breaks. Today, using digital twin technology, engineers can continuously 'twin' a machine to learn how the equipment is used and provide new services to owners, like condition-based maintenance, for instance. Enterprises can also gain insights on how the equipment is being used to develop product enhancements or remote monitoring capabilities to better enable field technicians.
National Pump and Energy, Australia's leading supplier of pump, power and compressed air equipment, created a condition-based maintenance service by creating digital twins of its pumps in remote locations. Connected sensors, edge computing, and integration with the Losant IoT Enterprise Platform helped its teams share information in real-time from remote locations. Diesel engines- which power the equipment NPE sells and leases- typically remain steady when there is no issue. To create this notification service, the team installed sensors that detect RPM fluctuation. With this implementation of a digital twin, a technician only needs to be sent to the remote location if the dashboard indicates a problem. This saves customers costs in scheduled maintenance.
IoT and Digital Twins
A digital twin does not have to be overly complicated to prove itself valuable. Creating a digital twin of machinery or of an environment can start with sensors, a connectivity network, and an IoT platform. Your enterprise can learn valuable tips from these examples of how smart campuses, a B2B supplier, and manufacturers can use digital twins to benefit customers and improve offerings. As you continue to investigate the creation of digital twins with IoT for your organization, consider Losant.
Systems, Losant's version of the digital twin, simplifies creating a digital replica of a network and helps to organize data behind the scenes. Few other platforms can propagate data from products and environments without browsing through lists of data. If you would like to try out Systems, you can begin using the feature immediately in our Developer Sandbox. If you would like to speak to someone directly about the benefits of a digital twin in your environment, contact one of our Solutions Engineers today.