IoT World provides an environment for enterprises with gaps to find solutions and the technology partners that will deliver them. Though it's easy to get lost in the excitement of product announcements, potential partnerships and the thrill of emerging technologies; Losant is bringing its clients' -Aruba Meridian, Bosch, SpotSee, and Verizon- first-hand accounts of how IoT provides real business value. Read more about the solutions the Losant Enterprise IoT Platform has enabled each client to build.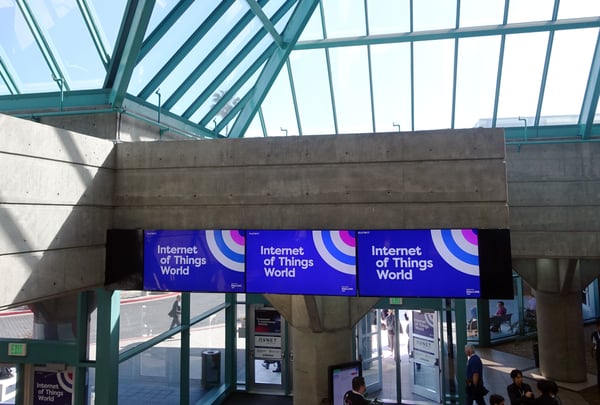 Condition-Based Maintenance
Engines that power many of the industries we rely on can rarely be diagnosed or monitored from a remote location. Contracted technicians are frequently required to travel to sites to disassemble or diagnose machinery. Per tradition, many businesses invest in preventative maintenance in an effort to prevent or reveal issues. Today, there is a more efficient way to conduct maintenance for engines and equipment, called condition-based maintenance. Switching from preventative maintenance to condition-based maintenance (CBM) can save roughly 50 percent of a business' maintenance budget.
Verizon is now able to offer its customers the ability to switch from preventative maintenance to condition-based maintenance using IoT technology. OEMs who choose Verizon's IoT solution can integrate CBM and service-based solutions into their supply chains. The ease-of-use enabled by the Losant IoT platform provides a competitive advantage for their customers. Verizon will demonstrate its CBM solution for a boiler manufacturer at IoT World 2018.
We've built a real-time data scenario to show booth visitors how we can access data from the controller of a 1600-pound Weichai engine. The engine's controller already collects the conditions of its components to self-regulate. Using edge computing and the Losant IoT platform, Losant can gather this data, create incident reports, display critical information on a dashboard and create alerts for staff if a condition requires attention. Booth visitors will get to experience how to diagnose engine problems without the need to disassemble. And, our team will be available to discuss how you can implement a CBM IoT solution for your business with Losant.
Smart Business Solutions
Modern consumers have high expectations for what businesses should be able to do. IoT systems can already optimize output in manufacturing lines, replenish inventory without a human touch, reduce waste and enable managers to monitor assets from anywhere. These developments have advanced production and efficiency in a number of environments, but Losant clients have also been able to transfer these benefits to their customers. Hear from Losant clients first-hand at IoT World 2018 about the benefits they are able to extend to their customers.
Logistics
Unsupervised assets can lead to a slow leak of revenue for any business. However, businesses can solve for this with accessibility to real-time data. Edge computing, beacons, and sensors can work together with the Losant IoT platform to create a seamless solution to monitor assets for businesses. Using the Losant IoT platform and the Bosch-powered SpotBot BLE device, Bosch has created a way for customers to access information about what happened to assets during transport. Varying temperatures or changes in humidity could jeopardize the integrity of products. Bosch will show booth visitors how its customers can collect and wirelessly receive sensor information about the trip when in proximity to the organization's gateway.
Smart Office
Aruba Meridian, a Hewlett Packard Enterprise company, provides a beacon-based indoor asset tracking solution. Aruba has hundreds of assets being monitored in their own corporate headquarters. Using Losant's Meridian Integration, they can now visualize the location of these assets and send real-time alerts if they enter or leave specific zones. Aruba Meridian will explain how it uses indoor asset tracking capabilities while showing data from its office headquarters.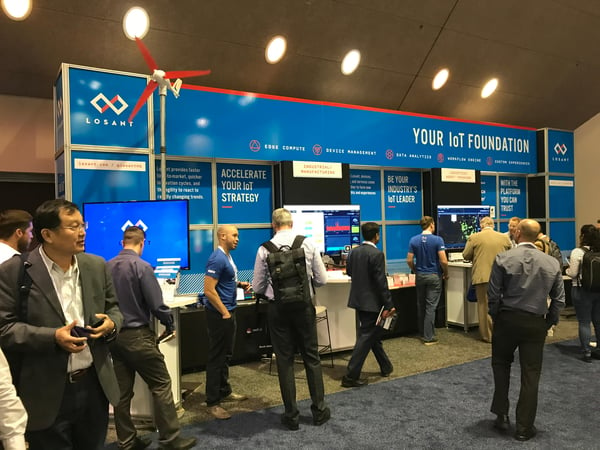 ROI of Real-Time Data
Real-time data can create invaluable relationships with customers. Losant is certainly not the first company to help businesses get real-time data; but we've made it much simpler to process, read and respond to. Learn how some of our customers are building custom applications to meet customers' varying needs for real-time information on top of the Losant IoT platform at IoT World 2018.
Supply Chain Monitoring
GPS asset tracking is helpful, but real-time geolocation information, shock sensor data, and delivery confirmation together equate to successful supply chain visibility. Learn how one of our clients is using IoT to deliver real-time data to its customers. SpotSee has constructed a way to allow its customers to make immediate business decisions in response to real-time data. Using SpotSee's cellular SpotBot solution, which features a user interface built on top of the Losant IoT platform, customers can review location data and shock data in real time.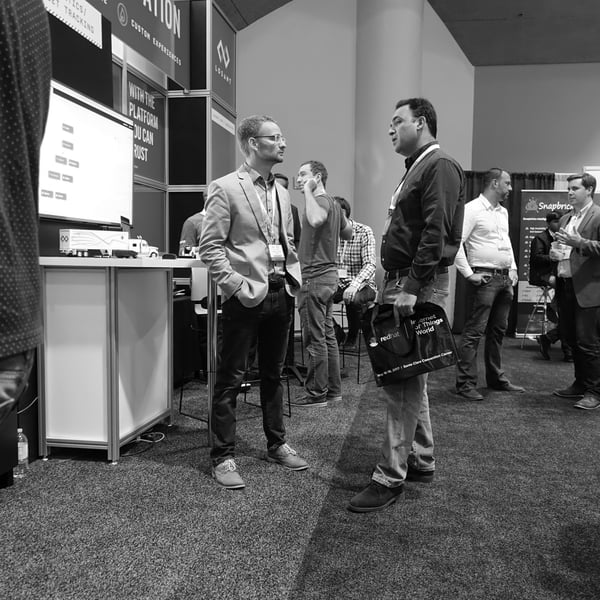 Do you have a vision for how IoT could enhance your business? Meet us in Santa Clara at IoT World 2018, May 15-17, Booth #710. We can help. Whether you're just starting to evaluate platforms or have a specific problem IoT can solve, the experienced Losant team can help reduce headaches and missteps. Schedule a meeting with one of our team members here.