Learning a new IoT platform is challenging, with so many disparate parts that it can feel almost impossible to understand how everything fits together. Losant has made learning IoT easier than ever by integrating all of its components together, allowing you to build a complete solution quickly. And, with the launch of Losant University, you can quickly learn to build IoT applications within Losant.
Once you complete Losant University, you will earn an official certificate of completion, proving that you gained a comprehensive understanding of the Losant platform.
Losant Tip: If you share your certificate on the Losant Forums, you'll get a surprise.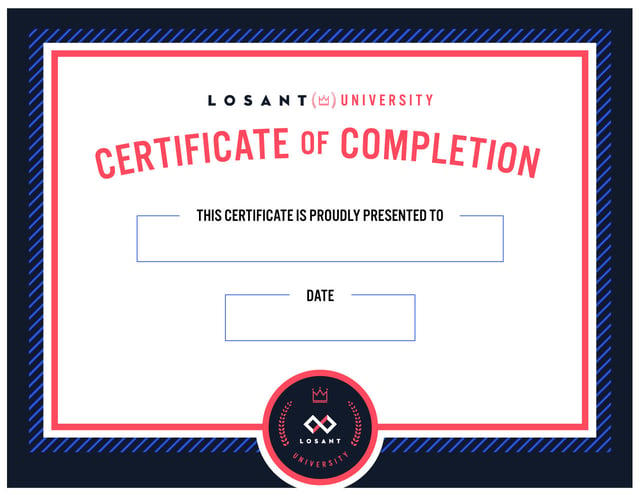 Included as part of your Losant license, Losant University offers a close look at the five components of Losant:
Visual Workflow Engine

Devices and Data Sources

Data Visualization

End-User Experiences

Edge Compute
And more! These courses include workshops and other activities to really get your hands dirty while learning about the platform.

A Losant U Overhaul
Losant University has moved to the LearnUpon LMS, or learning management system. This provides new functionality to Losant University students, including quizzes, tests, workshops, instructional videos, assessments, and more. This lets you assess your own learning, see where you excel, and focus on where you need to improve.
In addition to the course material, there are also sections to further your learning. For example, each course has a "Related materials" section with helpful links for further reading.
Test Your Losant Knowledge
As you move through Losant University, quizzes will appear at the end of each course to assess your understanding of the topic. These quizzes include multiple-choice, true/false, fill-ins, and other styles of questions, covering all aspects of the Losant platform. By taking the quiz, you can see where your knowledge gaps are.
Even if you've already gone through Losant University, you should give the quizzes a look. You never know—you might learn something.
New Experiences Course
Lastly, Losant University also includes a new Experiences course. Within Losant, Experiences are a means by which you can build a fully functional web application. This course helps you create your first Experience while offering protips, best practices, and insider details on the platform.
Learn by Doing with Losant University
Losant University is more than just a lecture series. It's a fully-featured, interactive course catalog designed to get you up to speed with the platform. And we're not done yet. We will continue to expand the Losant University course offerings and provide more tools to help your team learn Losant. I can't want to hear what you think.
If you have any feedback or ideas, let us know in the Losant Forums. Until next time, Stay Connected.