Your enterprise has many assets, and it's important that you know their condition at any given time and location. An IoT solution can track that information for as many assets as you need. But how can you configure such a solution?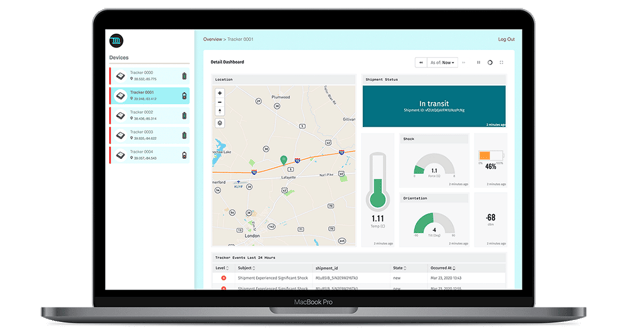 Losant's Asset Tracker Application Template, one of four templates included in the Losant IoT Platform, makes it easy. The Asset Tracker Application Template illustrates a geolocation-based asset tracking solution with temperature, shock, and tilt monitoring. By combining real-time location data with real-time sensor data, this template delivers many asset tracking use cases such as:
Automated delivery confirmation

Cold-chain monitoring

Theft prevention and recovery

Equipment usage trends





Application Templates in Losant provide a set of real-world reference implementations that you can use for:
Architecture guidance

Implementation best practices

Starting points for your own applications
The Asset Tracker Application Template provides an example of the following:
Sample tracking devices moving between distribution centers

Tracking issues with shipments through Events

Information about distribution centers stored in a Data Table

Custom application experience that utilizes overview and detail dashboards




This template contains a README that provides instructions and guidance on the template implementation. The README includes useful information including:
Key Components

Setup

Data Simulator

Events

Dashboards

Experience

Resources
Dylan Schuster, Director of Product - Platform, led a Deeper Dive Webinar on the Asset Tracker Application Template, offering protips and showcasing the full functionality of the template and the benefits it can offer your enterprise. Try the Asset Tracker Application Template for yourself now in the Losant Developer Sandbox and watch the replay of the Deeper Dive Webinar.