For your organization to take advantage of IoT, you could develop your own internal platform, which can be costly, time-consuming, and require expertise you may not have on staff, or you can work with an application enablement platform (AEP). An AEP is software designed to help development teams that don't have the means to make a full solution themselves create their own IoT solutions.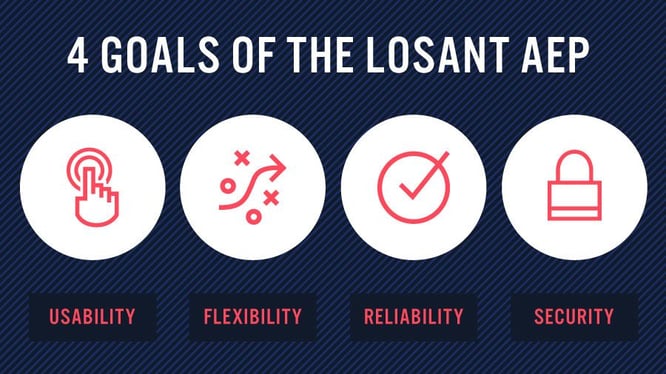 At Losant, we strive to be the ideal AEP. We created a platform that is hardware-agnostic, cloud-based, and supports multiple industry verticals from a single platform. Losant offers everything companies, big or small, need to get their IoT applications off the ground. Our CTO, Michael Kuehl, describes our development philosophy as:
"Whenever we develop functionality for Losant, we approach it from 4 main angles: the usability, the flexibility, the reliability, and the security. We know that if a feature isn't friendly, our customers aren't going to embrace it. We know that if a feature isn't powerful or flexible enough, it won't actually solve the problems that our customers are trying to solve. We know that a feature needs to be reliable; it needs to be able to scale. All the way from just a prototype environment with just a few devices or users to a production environment with millions of connected components. And last, but definitely not least, the feature needs to be secure. It needs to be designed to protect against both internal and external bad actors."
Let's take a look at those four goals in more detail, and see how Losant meets them.
Usability
As noted by MachNation in their MIT-E report, "Usability is an area of particularly noteworthy strength for the Losant IoT platform." We designed our software to be as easy-to-use as possible, without sacrificing functionality. This comes through most clearly in Losant's Visual Workflow Engine. The Visual Workflow Engine offers a drag-and-drop interface that allows you to visualize your workflows and develop business logic without the need to learn a new programming language.
You can drag nodes from one side of the screen into your workflow. These nodes operate as code would in a programming language, but in a visual interface. This usability allows non-developers the ability to design solutions while still allowing developers the power to build sophisticated applications in one interface.
Flexibility
When you purchase a Losant license, you get access to the entire suite of Losant components, from device management capabilities to End-User Experiences. This ensures that the Losant application not only meets the needs of your company right now, but offers the flexibility to meet new needs in the future. For example, if you decide you need to create a UI for your clients, you can brand your solution to your company's logo and colors using Losant's End-User Experiences.
Flexibility is also about responding to changes. As the needs of your company change, you will need software that can change and adapt, easily, with it. This was one of the defining principles of Losant from the beginning, as stated by Brandon Cannaday, Losant CPO, "Our platform was designed from the ground up to make it as easy as possible to push new functionality…to your users."

Reliability
When you invest in an IoT platform, you want confidence that the system is reliable, that is, available when you need it. All Losant databases run in high availability mode with automatic failover to redundant infrastructure in the event of server or communication failures. Your data is stored in three separate locations, ensuring that should one fail, the other two will be ready to go. This means that there is no single point of failure.
Not only that, but our engineers receive alerts whenever there is a failure to minimize downtime. Our engineers make uptime a priority, so you can be confident in your solution.
The Losant platform was built on a strong foundation that delivers an exceptional user experience to customers from all industries. As NimbeLink Co-founder and CTO Kurt Larson states, "The other platforms didn't have the tools required to build a user interface that could securely support many companies with multiple users. The front-end features, the developer view, and the way that you could create individual experiences were important to us."
Security
The security of your data is a real concern for all software developers, and Losant prioritized security when developing its platform. Losant is SOC 2 compliant, which means that Losant has been audited by a third party to certify our platform against the Auditing Standards Board of the American Institute of Certified Public Accounts (AICPA) Trust Services Criteria (TSC). This report evaluates Losant's platform in regards to security as well as availability, processing integrity, confidentiality, and privacy.
Losant includes end-to-end data encryption to ensure that your data remains secure when transmitting. We take your data security very seriously, as noted by CTO Michael Kuehl,
"We have third parties run regular white box security assessments and audits against the platform in order to find and identify potential security issues. Losant also has disaster recovery plans and policies in place in case of a catastrophic breach or failure and we periodically test those plans to make sure that Losant can meet our RPO and RTO goals for our system recovery."
A Complete Platform
The Losant AEP includes everything that you and your team need to start building IoT Applications. But you don't have to take our word for it—MachNation analyzed Losant's platform in comparison to other AEPs in its scorecard. You can read the report and see how we compare to the competition.
If you and your team would like to try Losant, check out the Developer Sandbox. The Developer Sandbox allows anyone to access the entire suite of Losant functionality for free. Build using our application enablement platform and transfer your work to new or existing organizations when you are ready to move to full-scale production.