It's never a good feeling to wake up and discover a service you rely on is being retired. On August 16th, 2022, Google Cloud sent a notice to all IoT Core users that the service is being shut down and they have one year to migrate.
Google Cloud IoT Core is being retired on August 16, 2023. Contact your Google Cloud account team for more information.
This leaves IoT application developers in a tough spot. Where to migrate?
Losant has been in service longer than Google IoT Core, and we were one of Google IoT Core's early partners. Google IoT Core's feature set is fairly modest, and Losant brought full IoT application enablement for our mutual customers. In the video below, you can hear directly from Gabe Weiss, Google's Developer Advocacy Manager, about the value of our partnership.
Google IoT Core is essentially a device registry and MQTT broker. Losant's platform not only delivers the same functionality as Google IoT Core; it delivers so much more. With Edge Computing, Device & Data Sources, Data Visualization, the Visual Workflow Engine, End-User Experiences, Losant customers can build and scale complete multi-tenant IoT products and services within a single platform.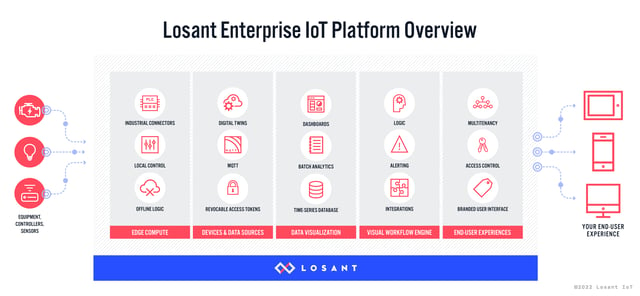 Losant's flexible cloud deployment options ensures your IoT platform lives next to your other infrastructure to maximize both performance and security.
Migrating away from Google IoT Core does not mean you need to migrate away from Google Cloud. Losant has built-in integrations with several Google Cloud services including Cloud Functions, Pub/Sub, AI Platform, and BigQuery. This allows you to continue using the broad catalog of Google Cloud services as part of your IoT solutions.
If you'd like to talk to our team and see how Losant might be the perfect Google IoT Core alternative for your organization, please contact us.