In part one of this series, we examined the current loT marketplace for original equipment manufacturer (OEM) connected products, including a high-level view of the challenges and opportunities for OEMs to create new revenue streams by embedding IoT into their existing product lines. As an inherently low-code platform, Losant's initiative with our Embedded Edge Agent (EEA) was to find a way to bring the same low-code development to the firmware world and with that comes a lot of productivity gains. With this in mind, let's dive into how Losant's Embedded Edge Agent can help OEMs transition to a connected product offering by embedding IoT.
The OEM Use Case
We've already established that OEMs are eager to add intelligence to enhance their products and service offerings. The goal of the EEA for manufacturing specifically is to make it easy to connect to the controller in the manufacturing device or the actual piece of equipment, extract the information, and send it to the cloud. By incorporating the EEA into the controller or gateway that is shipped with the product, OEMs can now easily offer this data to their customers, extending new data-driven, packaged, or fee-based services. OEMs can build a customer-facing remote monitoring portal that allows their customers access to valuable equipment data and insights into how the product is functioning. This is particularly valuable for OEMs transitioning customers to condition-based maintenance plans. These capabilities are directly enabled by adding the EEA into products.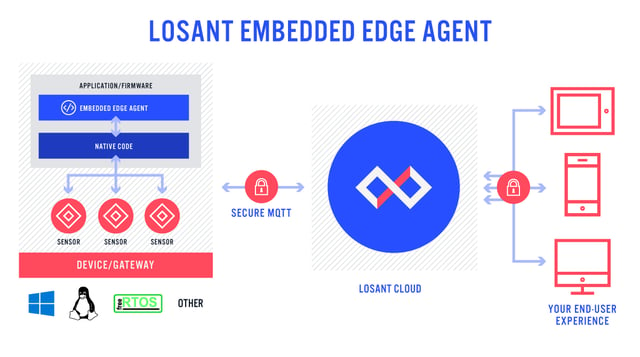 The EEA helps OEMs easily transition from a product line to connected product line by eliminating development difficulties, like writing firmware code. The EEA is a high productivity tool that doesn't require an OEM to go out and find IoT engineering expertise in order to successfully create and launch connected products.
The initial setup of the EEA does require moderate developer expertise. However, once the primary implementation with the hardware is complete, internal engineering teams at the OEM can use Losant's drag-and-drop environment to easily bring connected products to market much quicker than traditional firmware development. Backed by Losant's low-code, drag-and-drop workflow engine, the EEA, allows for adjusting embedded hardware behavior without physical access to the device – or having to recompile and flash the firmware. The EEA then executes those workflows via direct integrations with the native code on your device.
The EEA uses standard WebAssembly with no external dependencies, meaning it can be embedded into any language, with or without an OS, as long as the language supports a WebAssembly runtime. This unique approach brings the usability of Losant's workflow editor to low-power hardware and embedded systems in what we are dubbing the world's first low-code WebAssembly development environment.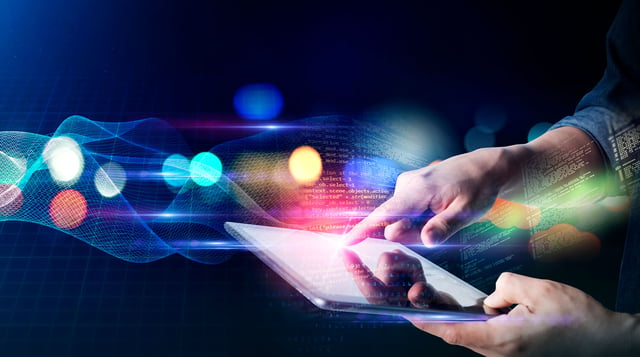 The OEM Opportunity
The Embedded Edge Agent allows OEMs to bring connected products to market faster. Once the OEM has incorporated the EEA into their sensors or devices firmware, the OEMs are able to collect and deliver embedded device data to their customers. The EEA allows OEMs to quickly and easily deploy low-code IoT solutions that create added-value by making their products more competitive and profitable. It also creates an opportunity for OEMs to generate new sources of revenue by monetizing data and services.
In part 3 of this series, we will look at how constrained gateway and controller manufacturers can integrate Losant's EEA to enhance their products, gain a competitive advantage, and reach a larger market by offering OEMs an off-the-shelf connected product solution. Connect with us if you'd like to learn more about how Losant can help your organization meet its IoT application development needs.