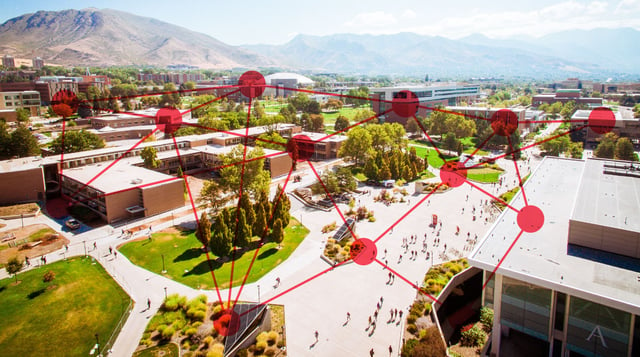 When we talk about a smart environment, we mean any environment that uses sensors, beacons, and other devices to connect all types of new and existing assets and software in the environment to generate data or capture existing data. A smart environment can be an office, floor, building, warehouse, or campus and reflects an organization's commitment to making decisions backed by data. Once the environment is connected, an Internet of Things (IoT) platform like Losant can collect, visualize, and analyze the new data along with information from existing building management systems to gain insights into how those specific assets and the environment itself are performing. These insights facilitate informed decision-making and allow companies to create value by conserving energy, optimizing resources, enhancing security, and improving space efficiency. The result is reduced operational costs and better experiences for the employees and customers using that environment.
A key application in a smart environment is occupancy monitoring, which provides real-time insights into how spaces within the environment are being utilized. Consider your organization and its goals for a culture built on collaboration and teamwork, and how occupancy monitoring can support those goals. In this scenario, teams or work groups may want to come together to complete a particular task in a conference room or a huddle space. Without a way to know how different rooms are being used, and when and where space is available for the meeting, the team loses valuable time trying to find a place to work, ultimately causing productivity to suffer.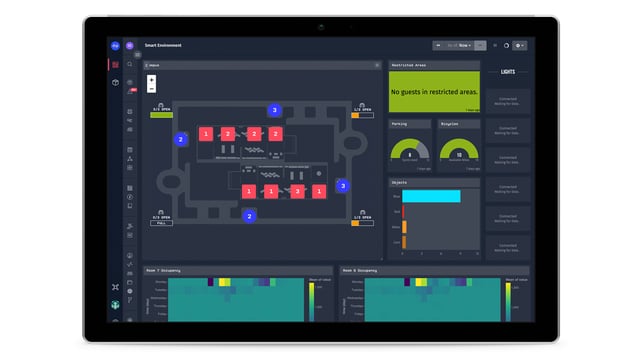 With Losant serving as the orchestration layer, an occupancy monitoring system based on IoT data can break this cycle by facilitating seamless interactions between smart environments and the people that use them. Using sensors and other IoT devices or gateways to generate occupancy data combined with Losant's IoT Enterprise Platform to collect, visualize, analyze, and store that data, the company from the earlier example could gain a complete picture of its environment. The company or Losant can then build an on-demand web app to deliver information to interested or relevant parties based on the employee's role and needs. The team or work group we talked about earlier could access room availability and location in real-time to work more efficiently and boost productivity. With an increased level of access to the information, the company's management could use room availability and utilization data to help them make decisions that optimize resource efficiency, such as determining if they need to expand or consolidate collaborative spaces.
Occupancy monitoring also provides value in a corporate or university campus setting where it can be difficult to validate investing capital in building more spaces. Occupancy data can justify the need for funding to build in that extra space. Moreover, historical data analyzed over time can distinguish patterns indicative of future problems. This would allow the corporation or university to increase capacity before a problem actually exists.
Beyond occupancy monitoring, smart environments can increase operational efficiency to drive down costs and provide a better experience for employees and customers in a variety of use cases, including:
Smart parking enables you to monitor parking structures and deliver a color-coded indication of space availability to smart overhead lighting or a digital display system in real-time.
Remote monitoring of your building or campus environment allows you to transition from preventative maintenance to condition-based maintenance by monitoring an environment around the clock from any geography by setting up alerts and alarms for system and equipment anomalies.
Energy usage and optimization monitoring enable you to calculate the costs associated with a piece or pieces of equipment to compare energy usage over time in and across smart environments.
Orchestration facilitates a seamless interaction between smart office systems and the people that use them by combining data from multiple systems into a single-source API for all building systems, simplifying changes or upgrades to components in the future.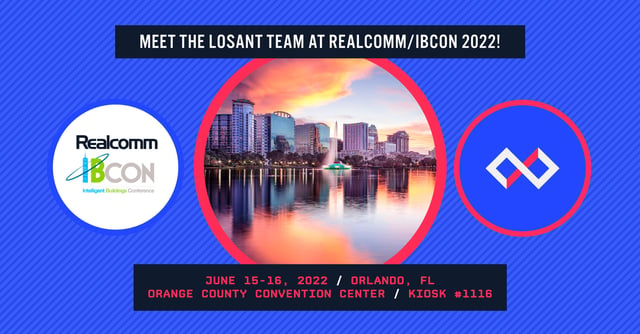 To understand how Losant's smart environment IoT innovations can enhance your environment, visit the team on June 15-16 at Realcomm/IBcon in Kiosk 1116. Losant has years of experience dealing with smart spaces. You can easily schedule a meeting time now if you want to connect at the conference before your schedule becomes too busy. We would welcome a conversation about your intelligent building project.