As the world enters a new phase of combating the COVID-19 pandemic, enterprise leaders are looking to any and all solutions to support the return of employees to work. Enterprises, now more than ever, need to be able to ensure the safety of their employees, while also continuing to meet their business goals. While many enterprises can continue to operate with a remote workforce, many industries require an employee's physical presence, such as:
Construction

Manufacturing

Hospitality

Healthcare
For organizations that require employees on site, how can they ensure a safe and effective return to work? The solution is the Internet of Things (IoT).
Why
IoT

in the Midst of a Global Pandemic?

IoT allows businesses to collect data from internet connected devices—data that can be used in a broad spectrum of applications. For example, IoT can enable automatic identification and tracking of resource and space utilization on a campus. It can provide GPS tracking of assets throughout the supply chain. This technology is useful during a pandemic as it can help with identifying potential disease exposure through contact tracing, or help to enforce social distancing practices.

A big advantage of IoT in general is the ease at which it has enabled remote monitoring—whether that be equipment monitoring in the industrial sector, monitoring room usage from afar in a general office environment, or broader GPS asset tracking within supply chain and logistics management.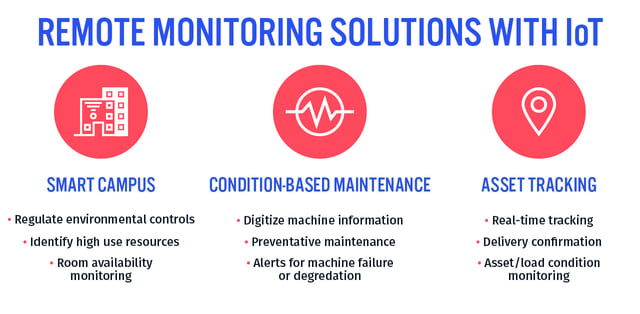 Historically ultra-wideband (UWB) Bluetooth and Bluetooth low energy (BLE) beacons have been used in asset tracking and smart campus applications. Now, this same technology can be redeployed to promote social distancing and contact tracing, strategies identified by public health officials as critical to addressing the COVID-19 pandemic.
The implementation of an IoT strategy can provide numerous benefits during the current public health crisis:
Promote social distancing practices through the use of technology.

Support contact tracing protocols to track the spread of COVID-19.

Provide data to support compliance with local, state, and federal health guidelines.

Avoidance of fines due to lack of compliance.

Promote employee physical and psychological safety.
Let's take a look at some examples of how IoT can support enterprises dealing with the pandemic.
Real Time Social Distancing Feedback through
IoT
A subset of industries will require increased sensitivity, precision, and data fidelity in their approach to social distancing. Warehouse and construction employees work in environments where closer proximity to one another is a given, so how can IoT support these environments to allow for better social distancing? One option is to leverage ultra-wideband Bluetooth technology to allow for precision location tracking.
Losant partner, Kinexon, has recently introduced their SafeZone technology which provides employee-worn sensors that measure the distance between employees in real time. These sensors are accurate to within four inches. Wristbands equipped with UWB Sensors are programmed to emit visual and audio cues when the sensors are too close together, or if the time of exposure to each sensor exceeds a certain limit. Employees receive instant feedback that they are in violation of the established guidelines, and can quickly take corrective action.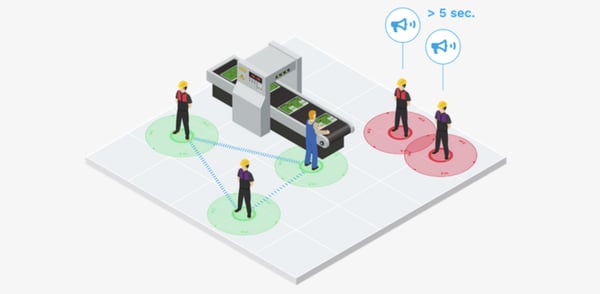 Contact Tracing with IoT
Despite best efforts to socially distance workers on site, eliminating exposure to the virus is not a guarantee. When an employee tests positive for COVID-19, a contact tracing solution can provide insight into which employees were likely exposed and who needs to take necessary measures regarding health and safety.
Working directly with our customers in the construction industry, Losant has developed a novel IoT approach to contact tracing. Losant's approach works by employing small physical hardware tags powered by Bluetooth Low Energy (BLE) gateways and the Losant Enterprise IoT Platform.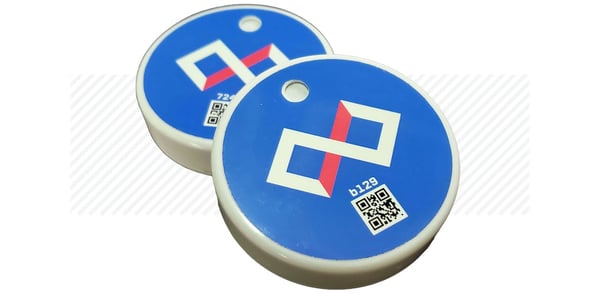 These tags keep a log of all other tags seen in real-time, when a tag comes within contact (10 feet or less, for more than 60 seconds), this record is stored on the device. The log syncs with the cloud application when the tag passes by a gateway, providing data to the Losant platform that can be used to determine potential exposure and to inform the employees to take precautions.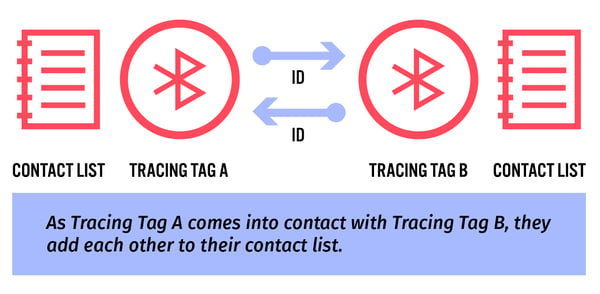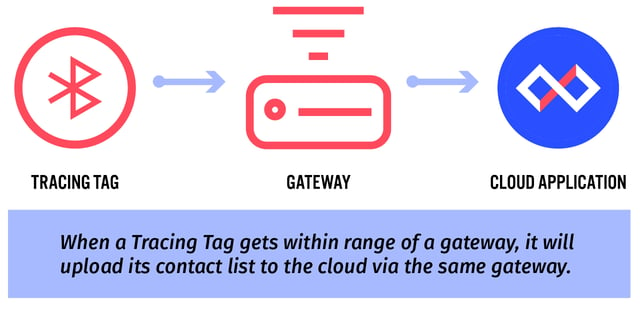 The solution Losant has developed around contact tracing offers numerous benefits, including:
No need for real time location services (RTLS) infrastructure or mobile apps.

No identifiable information is on the tags or transmitted over the network.

Re-purpose your investment post-COVID-19 for asset tracking.

No position information is actually needed or captured.

Solution is portable from site to site.
A solution as described above keeps employees safe and informed. Using Losant for your facility or campus enables one source of truth for contact interactions and a historical record of data to quickly notify your associates.
Leadership in the Time of COVID and IoT
Leaders can look to IoT to solve the issue of social distancing, and by leveraging technology, show a commitment to their employees to ensure a safe working environment. Those leaders who search for these innovative solutions will quickly realize benefits such as:
Faster employee engagement to return to work

A safer work environment

Reduction in employee fear
Luckily, the solutions that are enabled via IoT already exist and can be quickly redeployed to combat the new COVID reality. There is a high need for these solutions in our current reality, and the time sensitive nature of the pandemic makes quick development and deployment of these solutions essential.
For enterprises that are ready to learn more about how IoT can be utilized to navigate through the COVID-19 pandemic, Losant is ready to help. For more information on Losant's contact tracing solution, our Deeper Dive series replay provides a more in-depth review of the application. When you're ready, schedule a walkthrough of our platform with one of our Solutions Architects and learn how IoT can be leveraged to get your enterprise get back to work.