An increasing number of enterprises are incorporating IoT into their growth strategies, not only for competitive advantage but for survival. Convenience-loving consumers have come to expect the benefits of immediate data and this expectation is beginning to trickle to businesses serving other businesses. By accessing IoT data, manufacturers can create connected products to extend equipment monitoring or offer other new services to their customers. Enterprises can organize data and activate these new offerings with a multi-tenant IoT platform.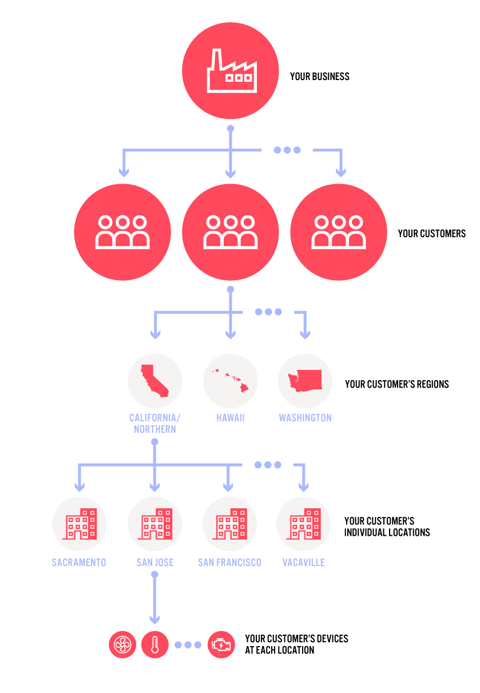 What Is a Multi-Tenant
IoT

Platform?

Many IoT platforms are multi-tenant platforms, but few platforms enable users to create multi-tenant applications. Multitenancy provides users with the ability to manage a network of separate entities on one platform. A tenant is defined as a user or group of users who share common access. Each tenant has the ability to view and manage only the devices that belong to them. In single tenancy solutions, the development team must replicate the instance for every new user implementation. Multitenancy saves resources over time by avoiding added costs, time, and complexity.

Choosing an IoT platform is best met with a pre-determined IoT strategy. Many strategies include the introduction of new revenue streams and an overall plan to achieve a return on the IoT investment. For enterprises in the market to provide customers with a unique branded experience or access to data about a product or network of products, a platform that enables the creation of multi-tenant IoT applications makes the most sense.

Opportunities for a Multi-Tenant IoT Platform
One of the best opportunities for a multi-tenant IoT platform is for OEMs. An increasing number of OEMs are using IoT to provide monitoring services and remote diagnostics to their customers. With a platform that enables the creation of multi-tenant applications, OEMs can organize the data being returned from each customer's machine or a network of machines. Using the data, the OEM could then offer a number of maintenance and/or monitoring services. The manufacturer could remotely diagnose machines in the field by using data to detect the condition of its equipment. The manufacturer also could use historical data to offer inventory replenishment services, or a manufacturer could provide direct monitoring access to customers who purchase a large number of machines and already have a maintenance team.
The Losant Enterprise IoT Platform is one of the few IoT cloud platforms that enables its users to create their own multi-tenant applications. These kinds of applications are best for organizations who would like to extend the advantages of data to their customers. If your organization would like to use IoT to develop new products and services, speak with one of our Solutions Engineers today.