It's holiday party time and folks are looking for bright ideas to make ringing in the new year as fun and memorable as possible. We at Losant are an incredibly hard-working group, BUT we absolutely enjoy having a good time - as a team as well as with family, friends and partners. We also love cool technology and brilliant ideas, so we've put together a short list of some of our favorite smart devices and projects that can help put some spice into your holiday get-together - whether it's a Christmas party, Festivus fete, Hanukkah celebration or New Year's bash you've got in store.
So you splurged last year with the sushi grade shrimp cocktail and fancy copper mugs for your Moscow mules. And now you're looking to top your 2014 celebration by adding some sizzle that will really wow your guests and keep them talking about your awesome party all year long. From the atmosphere to the food and drink, here's a handful of ideas that will help you accomplish just that.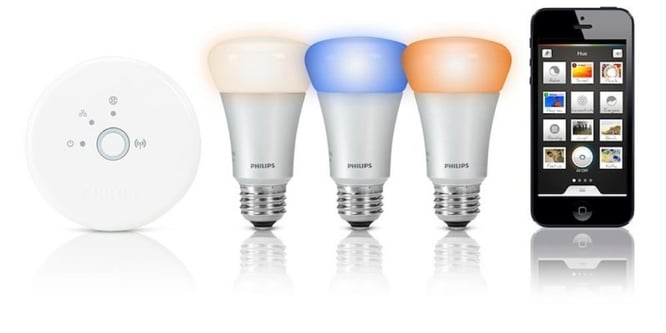 We've had a chance to play with the Philips HUE system a lot over the past few months and we've become pretty fond of it. We recently had the bulbs and app on a simple display at our holiday pop-up store and shoppers couldn't get enough of it (at least after playing at length with the free-roaming Sphero BB-8).
You can simply use the lighting system to set the perfect mood for the evening - and possible early morning. However, you can enhance the environment even further by changing color and intensity as the evening progresses or coordinate with specific areas of your home (kitchen, pool, game room, etc). If you want to get really engaging, pair the HUE bulbs with one or more popular apps like ambify, SyFy or HUE Disco to have your lights coordinate with your party soundtrack or TV. Here's a great list of some of the leading apps that allow you to get the most out of your HUE smart bulbs.
We like the HUE system even more now that they recently announced the reversal of their decision to block integration with other non-Philips bulbs and technology.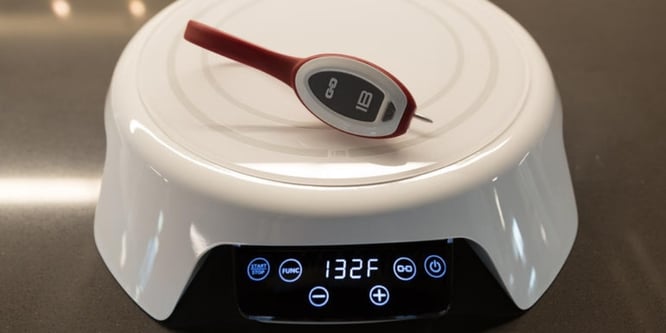 2. Cook Food to Perfection With Paragon
Our team recently took a short trip down I-71 to check out GE's makerspace, FirstBuild, right on the campus of the University of Louisville. The space is nothing short of amazing and the people running it are no different. One of the most impressive products we had a chance to see was the promising Paragon induction cooktop. The Paragon is one of the most exciting products to come out of FirstBuild, and after a successful crowdfunding campaign in the spring, the product just recently began shipping.
The Paragon is super convenient with a small footprint right on your countertop and makes precision cooking methods like sous vide as simple as ever with bluetooth connectivity and a special app that puts you in control wherever you are in the house. Cooking for your party will be a snap and the food will be cooked to perfection whether you want to sear, poach, deep-fry or sous vide. Another option - though not quite as versatile as the Paragon is the slick looking bluetooth-enabled Anova Precision Cooker, which may have an edge in terms of availability due to Paragon still building up inventory.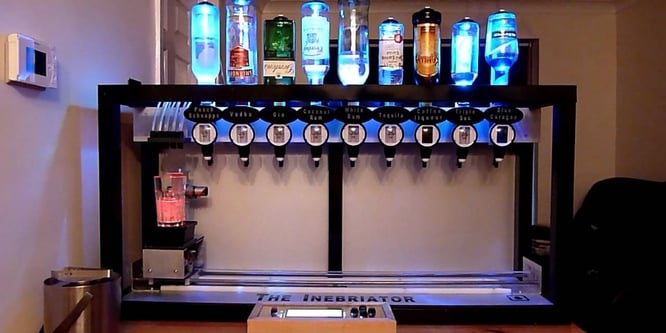 3. Skip the Bartender With Inebriator
Of course, one of the main things people look for in a good party is the cocktails. However, often party hosts have a good selection of spirits and mixers, but lack the knowledge, time or interest in making the cocktails themselves. We recently saw a fun Arduino project that solves this problem brilliantly by automating the bartender role with what appears to be a fairly accurate system.
Meet the Inebriator, an Arduino powered cocktail machine. Grab a glass, fill with ice, select desired drink, and a few seconds later your cocktail is ready - all but a little stir to finish it off. Even the presentation is festive - complete with subtle LED accent lighting to give it a cool, upscale look. Don't remember if that Moscow mule was lime or lemon? How many ounces of ginger beer again? No worries with the Inebriator on the job. Get perfect cocktails every time without the hassle of looking up ingredients or measuring spirits and mixers.
4. Ring in 2017 With Somabar
Much like the Inebriator, Somabar seeks to avoid the hassle of either looking up cocktail ingredients and recipes, hiring a bartender or investing the time and cost in earning an advanced degree in Mixology yourself. However unlike the Inebriator, Somabar - "your robotic bartender" - is designed more as a countertop appliance than an complex Arduino project.
From the small footprint to the ease of cleaning to the extensive array of fun colors available, it is clearly destined for the aisles of Bed Bath and Beyond (we hope) as a small appliance. Call it the Keurig of cocktails. Unlike the Inebriator, it includes an integrated app with an expansive ordering system that presents you with a menu based on the ingredients you already have or suggests what ingredients you need.
We're clearly excited about the Somabar. Only catch is that it's not yet available, so it'll have to be an addition for your 2016 holiday festivities. Good news is that you can at least preorder on the site.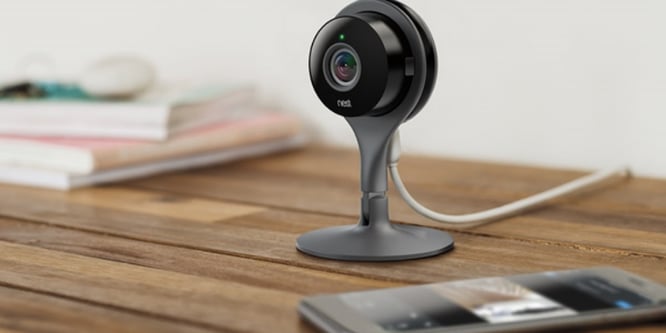 5. Capture the Festivities With Nest Cam
The Nest Cam is just plain cool. It's literally straight out of some of the movies we watched when we were kids. It will come in handy whether you fancy placing a camera outside so you can see who's trying to get it to the party by simply glancing at your phone - or placing it inside your house to provide some laughs the next day.
Become a YouTube sensation when you capture little Junior wreaking havoc with the silly string. Or catch all the fun and special moments going on when the ball drops and share it over live stream and with the guests afterwards. Or just simply use the video to learn what actually happened at your party since folks often tend to remember very little at these events! And no worries about the video looking like convenience store video surveillence. Yours will be all be captured in ultra crisp 1080p HD.
Another option to consider is the interesting Netatmo Welcome indoor camera. It's a camera specifically designed for indoor use that incorporates face recognition and integrates with a special app that alerts you when it sees a recognized face. Might sound a bit like Minority Report, but we think it's cool technology and can see how it could be of use - especially if your party is big.
---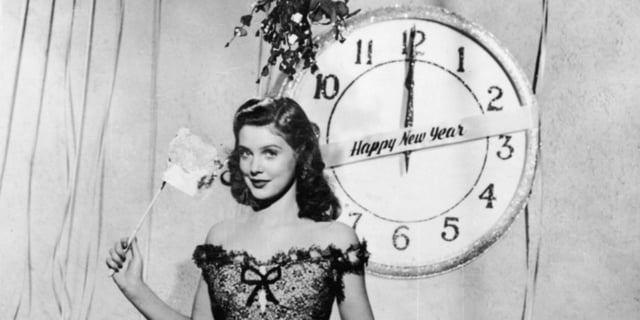 For some of us, entertaining and hosting is serious business. If you're looking to create an experience your guests won't soon forget, we think these products are worth a look. And unlike the silly string, noise makers and confetti, you're sure to get a ton of use out of them after the party ends.
Are you considering or planning to use any smart devices or cool tech at your next big bash? We'd love to hear about it in the comments below.